Congratulations MW Golf…you made it to State!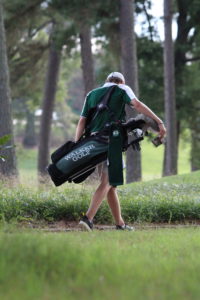 At the conclusion of last Monday's 2A Region Golf Championship, MW began its route to the VHSL State championship. With only 2 team spots and 3 individual scores advancing from the Regional, a lot was on the line Monday 9/24 at Kinderton Country Club in Clarksville, VA. Poquoson takes the Region Championship and first to advance to state competition with a team 321, 10 strokes better than both Maggie Walker and Randolph Henry.
The pressure was high, as was the excitement, with the day needing two sudden-death playoffs for a thrilling ending. In the first, Maggie Walker and Randolph Henry would send 4 players each for an aggregate score sudden-death playoff. The top two for each school completed the first hole still all square heading to the second tee. Meanwhile, following, the threes and fours preceded down the fairway advancing to the first green. No further would be needed following a par, par for Maggie Walker. After one playoff hole, Maggie Walker edged Randolph Henry by a single stroke, finishing 2nd, and advancing to the State Championship (a first for MW Golf).
Individual congratulations go to Avery Bowers ('20-Hanover) who shot a 77 and became a top 6 Regional medalist. Lisa Qin ('19-Henrico), rounded out the top 16 players at the Championship.
The team is coached by Mike Brown. Good luck Dragons Lisa Qin, Avery Bowers, Casey Pridgen, Cameron Paoloni, Eric Hamilton and Virginia Adams.
---