3 Dragons compete at Virginia History Day, one advances to National History Day Contest in June
On Saturday, April 27, 2019, the Virginia Museum of History and Culture hosted Virginia History Day. This massive history competition was directed in conjunction with the National History Day contest and co-hosted at the VMFA Virginia Museum of Fine Art. It brought hundreds of students from across Virginia in 6th-12th grades to complete in 9 categories including junior and senior level of individual and group divisions for papers, documentaries, exhibits, performances, and websites.
The theme of the 2019 competition, "Triumph & Tragedy in History," challenged students to examine their topic's influence on history and draw conclusions about the ways in which it had an impact on the course of events and on individuals, communities, nations, and the world.
Perisa Ashar ('21-Henrico) presented and won 2 awards – 2nd Place for Best in Category of Senior Paper; "The Midnight Rush: Triumph of India's Independence and Tragedy of India's Partition as a Result of Britain's Utilization of the 'Divide and Rule' Tactic," and a special award: The George C. Marshall Prize for addressing international issues as related to modern day and effective diplomatic solutions. The top 2 prizes in each category advance to the National History Day Contest meaning Perisa will present her history paper at the University of Maryland June 9-13, 2019.
Also with entries were Sam Lichtman ('22-Henrico) who presented "Project Mercury: Triumphs and Tragedies on the Path to Manned Space Travel," and Nikki Kumar ('22-Henrico) who presented "The Bracero Program: Triumph or Tragedy" and won 3rd Place in the category of Senior Individual Performance. Congratulations to these students for their outstanding research!
National History Day was founded in 1974 to inspire students to conduct original historical research. Since its creation, it has grown into an international competition with more than half a million participants and thousands of dollars in scholarship awards and prizes annually.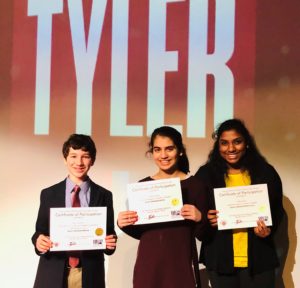 ---