Dragon Quiz Bowl team competes at National Championship over Memorial weekend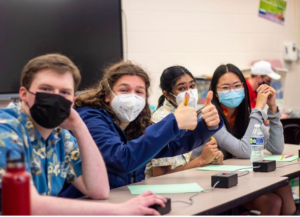 The Maggie Walker Quiz Bowl Team is headed to compete in the High School National Championship Tournament (HSNCT) in Atlanta this weekend! Good luck to Captain Sam Lichtman ('22-Henrico), our science and math player, in the final matches of his senior year as well as Sam McNamee ('24-Chesterfield) in social studies, Vien Nguyen ('23-Henrico) in literature, and Bharathi Kancharla ('24-Henrico) in fine arts.
The HSNCT is NAQT's premier high school event. The tournament is held at the end of each school year and features the top quiz bowl teams from across the United States and, increasingly, the world. Teams qualify for the HSNCT by their performance at regular-season tournaments using questions supplied by NAQT.
The MLWGS team will flex their brains for the whole weekend, facing off with top high school teams from around the country. Go Dragons!
Quiz Bowl is sponsored by Mr. Adam Rotche and Ms. Juanita Lasswell who are both traveling to Nationals with their team.
---