Good luck to MW's 'We the People' competitors at the Virginia state championship, January 28th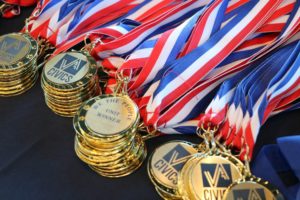 VA Civics We the People Medals Photo credit: VA Civics
Good luck to MW's 'We the People' competitors at the Virginia state championship, on January 28th.
The Virginia State 'We the People' Finals are here. The event is open to supporters. Come see what Virginia's best and brightest students think about government issues.
Students are divided into units and prepare a presentation on their focus area then participate in simulated congressional hearings on a wide variety of topics from natural rights to immigration and Congressional representation.
The MLWGS team will be in Charlottesville at the Darden School on January 28th. Good luck team members!
Team Sponsor and Teacher: Mr. Sam Ulmschneider
Team Members:
Anshul Chiranth (Henrico)
Alexia Creeden (Henrico)
Ella Forlin (Henrico)
Summer Fraughnaugh (Charles City)
Kaspars Golos (Richmond)
Ellie Griffin (Chesterfield)
Ethan Helms (Henrico)
Sophia Isaacs (Richmond)
Amelia Johnson (Henrico)
John Knorr (Chesterfield)
Jordyn Krajewski (Chesterfield)
Ryan Marks (Chesterfield)
Abigail Montgomery (Chesterfield)
Mattias Parandeh (Chesterfield)
Audrey Paulson (Richmond)
Mallory Phillips (Chesterfield)
Nived Sanjay (Chesterfield)
Greta Shope (Henrico)
Abigayle Simmons (New Kent)
Annabel Tang (Henrico)
Cameron Unice (Richmond)
Daniela Wheeler (Richmond)
Edward Williams (Goochland)
Bruce Yanovitch (Chesterfield)
---