Mech Tech Dragons Update – Day 2 of Nationals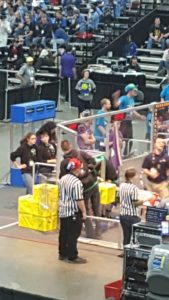 The photo is of the team setting up for round 1 today.
The team went 1-3 on Thursday. The first two matches were within reach for the alliance, but not all the robots were at peak performance. The third match was a dominating performance and resulted in the win. The final match of the day was out of reach for the team with the alliance robot pairings on both sides. We are looking forward to 6 matches today with more opportunity to show what the robot can do. More updates to come.

---