MLWGS 2019 Yearbook wins "best-of" award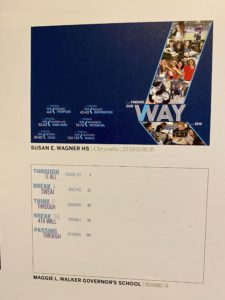 The 2019 Maggie Walker Governor's School yearbook is featured in the Herff Jones 2020 "best-of" publication, Portfolio, which showcases the amazing work that came from yearbook staff's across North America.
In its 25th year of publication, Portfolio features more student work than ever before. Of the thousands of yearbooks printed by Herff Jones, 477 schools were chosen across multiple categories. Judged by industry experts on various design and storytelling elements – from themes to covers to features – the featured staffs truly epitomize the student innovation that came from yearbook classrooms in 2019. An online showcase is available at https://yearbookdiscoveries.com/showcase/.
Congratulations to Mr. Michael White, Yearbook Sponsor, and the yearbook staff for their work that produces a great keepsake year after year!
Sidebar: the yearbook file is a great resource for the many photographs we enjoy in our news posts and on multiple locations on the website.
---