MLWGS We the People team places 5th at 2018 Nationals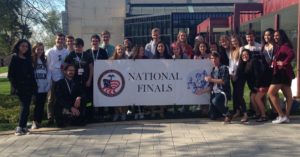 After three riveting days of simulated congressional hearings on the history, present, and future of U.S. Constitutional system, Maggie L. Walker Governor's School for Government and International Studies from Virginia placed fifth in the nation.
This year Maggie Walker attended its 20th national hearings on April 28–April 30, 2018, at the National Conference Center in the Washington, DC area, where our students competed with more than 45 other teams from all over the nation. The Dragons were aiming to continue the school's unbroken streak of top ten finishes and they succeeded. We the People: The Citizen and the Constitution, is a civics and constitutional knowledge competition.
The 'We the People' program at Maggie Walker continues to help make Virginia a dominant force at nationals.
Thank you to Team Sponsor and Teacher: Mr. Sam Ulmschneider for his leadership. Mr. Ulmschneider, who participated in the We The People program as a student in 2002, said "This experience is the exciting culmination of a whole year of rigorous research, practice defending your own ideas while analyzing those of scholars about the Constitution, and I know that it gives the participating students substantially more commitment to be active and engaged citizens for the rest of their lives."
Team Members:
| | |
| --- | --- |
| Morgan Ackley | Ninfa Amador-Hernandez |
| Alexandra Barrett | Claire Bencks |
| Kelin Carpenter | Andrew Datovech |
| Idoia Dizon | Ryan Ellis |
| Isabel Galgano | Benjamin Hazelton |
| Thea Konefal | Natalie Little |
| Emily Ma | Ashley Nelson |
| Elizabeth Pearson | Owen Peck |
| Catherine Qian | Donovan Reynolds |
| Priya Singh | Sadiesha Taylor |
| Brittani Telfair | Elias Wolman |
| Rachel Zhao | Michael Zmuda |
http://www.civiced.org/programs/wtp
---