Senior Showcase Day & Freshmen Field Trip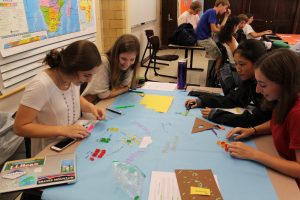 Parents of seniors are invited to attend Senior Showcase Day on Thursday, May 31, from 8:40 am to 3:10 pm at MLWGS. Seniors will make presentations on their respective topics of interest which they have studied through a seminar or mentorship over the course of this school year.
Parking for Senior Showcase
Parents of Seniors who plan on attending Senior Showcase on Thursday, May 31, are respectfully requested to park in the James River lot so as not to take up parking spaces that are intended for faculty and students. The semi-circle parking lot in front of the school on Lombardy Street will be reserved for mentors.
IMPORTANT NOTE to STUDENTS: On the morning of May 31, all students will report to their first block class to pick up their schedules for the day. It will be important for all students to follow the schedule because of space limitations.
Attention Freshmen Parents: For half of the day, freshmen will attend Senior Showcase sessions. During the other half of the day, Freshmen will participate in a Jackson Ward field trip/tour. Details will be coming soon!
---