MLWGS Librarian Publishes Article: "Collaboration, Inclusivity, and Trust-Building: Diverse Political Voices in High School Collections"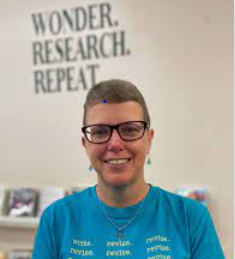 If you have ever worked in or even walked through our school's library, you will note the duality of simplicity and complexity. The furniture is super-comfortable, and the aesthetics lean toward minimalist, but the array of scholarly resources is rich and carefully curated. This unique setting and compilation can be attributed to our librarian, Ms. Wendy DeGroat.
Her desire to provide an engaging, inspiring and welcoming space is transcendent. Most recently, she was featured in an educational magazine, School Library Connection. In her article, the reader can see how her philosophy and her goals merge to represent collaboration, inclusivity, and trust-building.
Ms. DeGroat describes her goal of "providing access to diverse viewpoints" with the understanding that within her sphere, "school librarians can influence how students treat those who don't share their political beliefs." In times that are becoming more polarizing, Ms. DeGroat recognizes that "tensions are high now as some Americans seek to suppress ideas and experiences that don't mirror their own by censoring curriculums and library books." Her ultimate goal is to "defend students' freedom to read novels with a wide range of characters and stories" and to ensure that "our collections also reflect diverse political voices and viewpoints."
Openness to the ideas of others can be seen in other arenas as well. Ms. DeGroat spearheaded the StoryCorps One Small Step program at our school, an activity in which participating students are matched with someone whose political viewpoint differs from theirs for a conversation about their values and how their life experiences have shaped their political beliefs. According to Ms. DeGroat, "Listening to students during the workshops and in recorded conversations has given me insights into their political opinions and the issues and influencers that matter to them."
Ms. DeGroat's efforts to include and respect the opinions of all exemplify the four pillars of the Walker Way and support an important goal related to our school's strategic plan–providing a safe and welcoming learning environment.
Dr. Lisa Williams
Assistant Director
---