2020-21 Scholastic Art Winners Announced – Dragons take 50 awards!
We are very excited to announce that our talented students in the fine arts were recently honored again this year by having their work selected in the regional Scholastic Art competition. This is a highly competitive art competition that had over 2000 art entries from the region. MLWGS students had another great year of 50 total awards, recognizing Maggie Walker as one of the region's top schools for the Arts.
2020-21 Scholastics Awards Summary
50 Total awards
7 Gold Keys awards including 1 American Visions Nominee
14 Silver Keys awards including 1 Silver Key Portfolio
25 Honorable Mentions including 3 Honorable Mention Portfolios
Maggie L. Walker Governor's School students were additionally recognized for their work in this show. Junior, Devyn Powers received an American Visions Award nomination for her mixed media piece, Blue Face. Additionally, Senior, Isabel Li's digital artwork was chosen for the exhibition catalogue cover.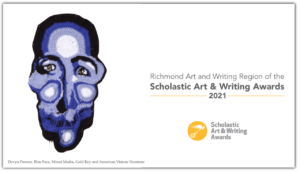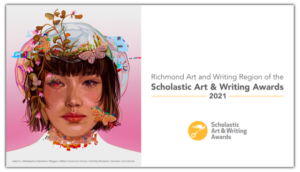 Due to COVID, an exhibition of only the Gold Key works will be held at The Visual Arts Center of Richmond at 1812 West Main Street from February 6-21st. The exhibition is free and open to the public. Social distancing protocols are in place in the gallery. Pictures of the exhibition are attached below.
The exhibition can also be seen online at this link. https://www.visarts.org/partnerships/school-partnerships/scholastic-awards/. An online ceremony will be held on Zoom for Gold Key award winners this Saturday, February 13th at 1 pm.
Additionally, Gold Key winners' work will move on to the Alliance for Young Artist and Writers national adjudication process, where it will be eligible for further recognition and scholarship opportunities. Adjudication of Gold Key works will take place in New York City and award winners will be announced in March.
Please join me in congratulating the following Maggie Walker Students and the Fine Arts staff for their success!
Portfolio winners are in bold.
| | | | | | | |
| --- | --- | --- | --- | --- | --- | --- |
| Award | First | Last | Grade | Category | Teacher | Title |
| Gold Key American Visions Nominee | Devyn | Powers | 11 | Mixed Media | Hall | Blue Face |
| Gold Key | Rylan | Karjane | 12 | Drawing & Illustration | Hall | Get Off My Doc's |
| Gold Key | Tina | Le | 12 | Design | Hall | Youth Art Month |
| Gold Key | Isabel | Li | 12 | Digital Art | Coleman | Maladaptive Daydream |
| Gold Key | Isabel | Li | 12 | Digital Art | Coleman | Exploration |
| Gold Key | Ananya Iyer | Sairaman | 10 | Drawing & Illustration | Hall | Romantic |
| Gold Key | Nived | Sanjay | 10 | Drawing & Illustration | Hall | Skin-deep |
| Silver Key | Jeddah | Arnold | 11 | Photography | Cox | Gluten free |
| Silver Key | Wood | Johnson | 10 | Sculpture | Stinnett | House of Slate |
| Silver Key | Rylan | Karjane | 12 | Painting | Hall | Papilio troilus |
| Silver Key | Rylan | Karjane | 12 | Painting | Hall | Acherontia atropos |
| Silver Key | Rylan | Karjane | 12 | Painting | Hall | Speyeria diana |
| Silver Key | Rylan | Karjane | 12 | Art Portfolio | Hall | empty girls met with empt eyes |
| Silver Key | Isabel | Li | 12 | Digital Art | Coleman | the flowershop |
| Silver Key | Hanna | Ngai | 11 | Sculpture | Hall | thorns in my side |
| Silver Key | Lexi | Pasternak | 11 | Digital Art | Hall | The Stronghold |
| Silver Key | Ananya Iyer | Sairaman | 10 | Drawing & Illustration | Stinnett | Enigma |
| Silver Key | Nived | Sanjay | 10 | Drawing & Illustration | Hall | Up & Down |
| Silver Key | Gwen | Stankiewicz | 11 | Fashion | Hall | Roses and Thorns |
| Silver Key | Sarah | Wagner | 9 | Drawing & Illustration | Hall | Boy in a Dark Hallway |
| Silver Key | Alan | Watts | 11 | Photography | Stinnett | Back Alley Bars |
| Silver Key | Alan | Watts | 11 | Photography | Stinnett | Adjusting the Light |
| Honorable Mention | Ria | Bakshi | 12 | Art Portfolio | Hall | familiarity |
| Honorable Mention | Robert | Buchanan | 10 | Mixed Media | Stinnett | Flotsam |
| Honorable Mention | Elizabeth | Celentano | 12 | Drawing & Illustration | Hall | Rusty |
| Honorable Mention | Ishaan | Dave | 9 | Drawing & Illustration | Hall | Stippling Ink Drawing Still Life |
| Honorable Mention | Mallory | French | 11 | Sculpture | Hall | Untitled |
| Honorable Mention | Cameron | Golden | 10 | Painting | Hall | Blue Eyes |
| Honorable Mention | Cameron | Golden | 10 | Drawing & Illustration | Hall | Self Portrait in Ink |
| Honorable Mention | Gayatri | Guda | 10 | Comic Art | Stinnett | Ursa |
| Honorable Mention | Lillian | Josefiak | 10 | Drawing & Illustration | Hall | reflection |
| Honorable Mention | Callie | Karjane | 11 | Photography | Stinnett | Flooding |
| Honorable Mention | Sarala | Kennedy | 10 | Drawing & Illustration | Hall | Self Portrait After Kollwitz |
| Honorable Mention | Ala | Killen | 10 | Photography | Hall | Chicken Portrait |
| Honorable Mention | Shreya | Malani | 12 | Painting | Hall | lost in thoughts |
| Honorable Mention | Shreya | Malani | 12 | Painting | Hall | lake thunseree |
| Honorable Mention | Shreya | Malani | 12 | Art Portfolio | Hall | faces across generations |
| Honorable Mention | Sutton | Marks | 10 | Design | Hall | Evolution of Zelda Infographic |
| Honorable Mention | Isabel | Martin | 12 | Painting | Hall | 4 Aspects of Identity Pt. 1 |
| Honorable Mention | Isabel | Martin | 12 | Mixed Media | Hall | Life |
| Honorable Mention | Ellie | Murray | 11 | Photography | Stinnett | Seed Clouds |
| Honorable Mention | Hanna | Ngai | 11 | Sculpture | Hall | no justice, no peace |
| Honorable Mention | Hanna | Ngai | 11 | Sculpture | Hall | 2020 the Movie: Corona Strikes Back |
| Honorable Mention | Anthony | Paiva | 12 | Photography | Stinnett | The Passenger |
| Honorable Mention | Audrey | Price | 10 | Painting | Hall | Mother Nature, the Vandal |
| Honorable Mention | Gwen | Stankiewicz | 11 | Digital Art | Hall | Procrastination |
| Honorable Mention | Betsy | Tinsley | 10 | Drawing & Illustration | Hall | Tenebrism Figure Drawing |
| Honorable Mention | Cooper | Tsow | 12 | Comic Art | Hall | Balance |
| Honorable Mention | Alan | Watts | 11 | Photography | Stinnett | Crows on the Pier |
| Honorable Mention | Julianne | Zielinski | 12 | Art Portfolio | Hall | untitled |
---