Dragons take 1st Place School at the VA Scholastic U1400 Chess Tournament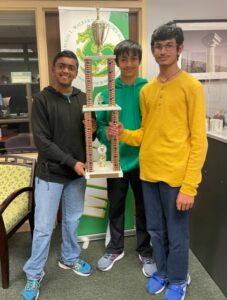 On March 26th and 27th, the Maggie Walker Chess Club won first place as a school in the Virginia State Scholastic U1400 Chess Tournament. Our top three scorers, Shorya Malani ('24-Henrico), Arjun Azhagappan ('24-Chesterfield), and Risshi Naavaal ('24-Henrico), contributed key points to the victory. Arjun won 2nd Place and Risshi won 4th in the entire State of Virginia. Shorya won 2nd Place in the under 1000 class.
Also contributing to the State Championship effort were KJ Dowling, Sam Sneddon, Soumya Khadye, and Ritvika Palani, and Cole Didato, who won highest Unrated Player.
The team is sponsored by Mr. Ed Coleman.
---