Farewell to departing MLWGS faculty
With great fondness and sincere gratitude for their many years of service, we say goodbye to the following faculty members in June.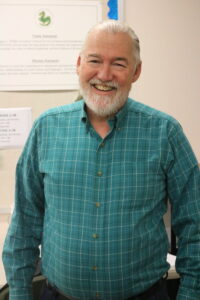 John Walter – Mathematics Department
August 1993 – June 2023
John Walter started his 30-year career teaching mathematics at Maggie Walker when it was known as the Governor's School (GSGIS). Back in those days, we occupied one-half of Richmond's Thomas Jefferson HS. During his tenure, John has taught both college preparatory and advanced courses in mathematics; including VCU Courses in Calculus, Statistics, Reasoning, and Linear Algebra.
Two of his three children graduated from MLWGS: Alison (2008) and Brian (2013) and are proud Dragon alumni.
Besides being a teacher, John has contributed to the greater Maggie Walker Community as Department Chair, Technology Integrator and member of SAC and Faculty Council. John has sponsored numerous clubs including: Chess Club, Math Contest Coordinator, Math Club, Computer Programming Club, Orchard Music Club, Deadbeats, Badminton Club, and Dragons on the Bench.
To quote John when asked, what makes you happy as a teacher? "All of it. It all makes me happy. I have a philosophy that life is good and then you die, so you should look at every day as being good because we're all going to die, so you've got to enjoy every moment." This statement accurately reflects the John Walter we know!
"John has been an integral member of the math department and this school since the beginning," said Connie Hill, Math Department Chair. "He has inspired, challenged, and empowered both students and colleagues during his tenure. He is a legendary teacher who was not bound by the limits of a classroom, as seen by his involvement in all facets of the school. His knowledge, wisdom, and compassion have touched the lives of all of those who have been lucky enough to be taught by him or to work with him. John is irreplaceable and will be deeply missed by all."
John is looking forward to traveling, spending time with his wife, Michele and their adult children, Alison (Doc), Emily and Brian (Madi) as well as his adorable granddaughters, Fiona and Ellie and his first grandson expected in September. To help fill his days he plans on volunteering in the community, tutoring students in mathematics, and playing lots of piano.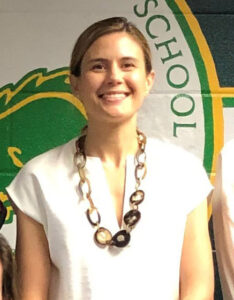 Leigh Glatt – English Department
August 2019 – June 2023
Leigh Glatt is leaving her position for an opportunity that benefits her family in June. Ms. Glatt came to MLWGS full-time in 2019 after a successful stint as a board substitute during the final semester of 2018-19 academic year. Leigh holds an undergraduate degree from the University of Virginia with a teaching certification in both English and Theatre Arts from the University of Richmond. In a previous career, Leigh was a New York City actress for many years and was a member of the Screen Actors Guild for over 10 years. In her first years here Leigh also served as our drama director.
"Leigh has been such an important part of our team over the years," said Kerry Sheppard, English Department Chair. "In many ways, she was the heart of our department. Her impact and absence will resonate, but we are cheering her on as she embarks on this new and exciting adventure! Leigh, you will be missed!!!"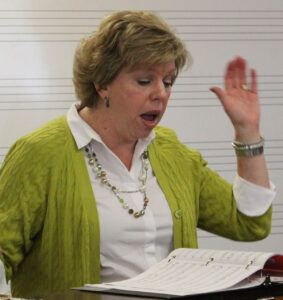 Michelle Graham – Chorus, Fine Arts Department
September 2018 – June 2023
Mrs. Graham joined MLWGS in the fall of 2018 after retiring from a stellar career at Midlothian HS teaching several choirs and music theory. Mrs. Graham earned her undergraduate degree from Meredith College and a graduate degree from VCU. Michelle brought a high-level of experience that enriched her students and revitalized that class. But after 40 years of teaching, she has decided to conclude her career.
"With profound gratitude, we bid farewell to our beloved chorus teacher, Mrs. Michelle Graham, whose unwavering dedication and passion have left an indelible mark on our school's musical community," said Jeff Hall, Fine Arts Department Chair. "Her commitment to nurturing our young musicians and fostering a love for choral music will be greatly missed. We are forever grateful for the musical legacy she leaves behind. Thank you, Mrs. Graham, for enriching our lives with the gift of harmony."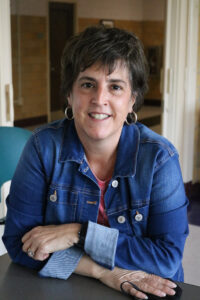 Stephanie Welles – Spanish, Language Department
After teaching 15 years at Maggie Walker, Stephanie Welles returned in 2022-23 as a long-term substitute for Alecia Nichols, who was granted leave for a nine-month Fulbright Scholarship position in Peru.
Born in Fort Dix, New Jersey, Ms. Welles earned a B.A. in Spanish Language and Literature at Mary Washington. At Maggie Walker, she taught Spanish 3, Pre-AP Spanish, and AP Spanish Language and Literature. She also, in collaboration with former ASL teacher Brenda Thornton, taught the Relevance Rising senior seminar, which culminated in service trips to Guatemala. In 2022-23, Ms. Welles taught Ms. Nichols's Spanish 1, Spanish 2, and AP Spanish Literature courses. "Her colleagues and students are enormously grateful for the expertise, diligence, enthusiasm, and sense of humor she brought to the classroom," said Michael White, International Language Department Chair.
---