MLWGS girls track team was the Group 3 Region B Team Champions and Group 3 State Runners-Up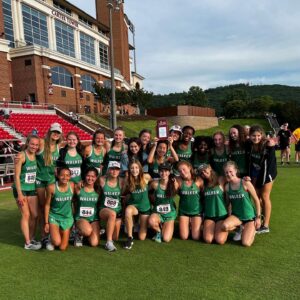 The VHSL switched from a 3-class system to a 6-class system at the start of the 2013-14 school year, and with it, we at Maggie Walker went from AAA to Group 2, and then in the 2019-20 school year, we were moved up to Group 3. At Maggie Walker, we treat the Cross Country, Indoor Track & Field, and Outdoor Track & Field teams as one big continuous program. Last Saturday we wrapped up our 9th year, and 26th sports season (Fall-XC, Winter-Indoor, Spring-Outdoor) with this new classification system. It would be the 27th season but the pandemic canceled the Outdoor Track season in 2020.
In each of the 26 seasons beginning with Cross Country in the fall of 2013 through the 2022 Group 3 Region B Outdoor Track & Field Championship meet held on May 24th, the Maggie Walker Lady Green Dragons have won a perfect 26 Regional Team Titles. Next year we will go for a decade of regional titles.
Additionally, at the state level, the girls have finished no worse than 5th as a team in the 26 state meets that have been contested during that time. We've won 17 Team State Championships, 6 Team State Runners Up, 1 third-place finish (Indoor Track 2021), 1 fourth-place finish (Cross Country 2020), and 1 fifth-place finish (Outdoor Track 2021). This includes this year's Group 3 Cross Country State Title, and Group 3 Indoor T&F and Outdoor T&F State Runner Up.
Individual recognition goes to Catherine Garrison ('22-Hanover) as the 2-mile T&F State Champion.
The track team is coached by Jim Holdren, Deborah Snagg, Ryan Webb, Bob Disse, and John Cerminara. Well done all!
Athletic training services are provided by @vcuhealth.
Credit: Ryan Webb
---