MW Junior selected for VESSS and SEES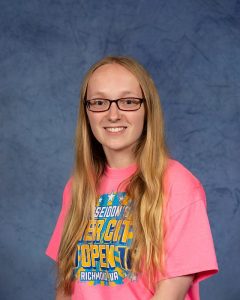 Congratulations to Paxton Calder ('23-Henrico), who was recently selected to participate in the Virginia Earth Systems Science Scholars program, a partnership between the Virginia Space Grant Consortium and NASA, as described below. As a result of this participation in VESSS, Paxton was also accepted into the nationally competitive NASA program, STEM Enhancement and Earth Science Program, SEES, also described below. Additionally, Paxton was also one of only ten area teens selected to participate in the highly selective Medical Science Internship Program MSIP at VCU Health over the summer.
The VESSS opportunity was shared with our students by Ms. Joy Cobb, Sophomore/Junior Counselor. Paxton told us she was accepted back in December and has been participating ever since. Paxton said, "if you perform well enough in VESSS, you can be invited to a residential Summer Academy program hosted at NASA Langley. I will be attending that for a week this summer virtually. It was through the NASA VESSS coordinator that then I learned of the nationally competitive SEES NASA internship. I applied for that recently and was selected as well. I also applied to the Medical Science Internship Program at VCU and was accepted into that program as well." All together this sounds like a productive and busy summer for Paxton.
VESSS – The Virginia Earth System Science Scholars (VESSS) program is an interactive online science, technology, engineering, and mathematics learning experience for Virginia high school juniors and seniors, which engages students in NASA's latest challenge: satellite missions designed to improve understanding of our own planet's complex systems through the power of remote sensing. Successful completion of the course is highlighted by a seven-day residential summer academy at NASA Langley Research Center in Hampton, Virginia. Using data from the latest cut-edge technology, students selected to participate in the program are immersed in NASA-related research and satellite mission design through interaction with NASA scientists, engineers, and technologists. Students can earn up to FIVE free transferable, dual-enrolled college credits through Thomas Nelson Community College. The program is a partnership between the Virginia Space Grant Consortium, NASA Langley Research Center, and the Commonwealth of Virginia. Thomas Nelson Community College is partnering to provide up to five free dual enrollment transferable college credits.

SEES – The prestigious STEM Enhancement in Earth and Space Science (SEES) summer internship is held at The University of Texas at Austin's Center for Space Research. Students will work with scientists and engineers to conduct authentic research from data received from NASA's Earth-observing satellites as well as designing Mars habitats, Lunar Exploration, and robotics. This nationally competitive program sponsored by NASA's Texas Space Grant Consortium selects students who will increase their knowledge of science, technology, engineering, and math (STEM) through Earth and space education. SEES is a collaborative effort of Texas Space Grant Consortium members and affiliates, NASA, and The University of Texas at Austin. Students apply for SEES and are selected competitively. The internships are organized around an aerospace or space science theme drawn from NASA's diverse engineering and scientific research programs. The program combines the strengths of collaborators to enrich the teaching and learning of STEM
---