MW students fight poverty and stigma as PERIOD members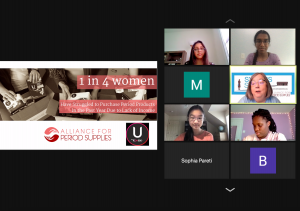 PERIOD @ Maggie L. Walker GS, VA is a chapter of PERIOD, a national organization committed to fighting period poverty and stigma through service, education, and advocacy. We opened our chapter in the fall of 2019 as a part of the Red Cross Club, and this year, we have 60 members, who have all been instrumental in helping us carry out our various initiatives throughout the year, including a t-shirt sale, a period product drive for Diversity Richmond, and of course, 28 Days of PERIOD.
Last year, as an auxiliary of the Red Cross Club, we were able to get free period product dispensers set up in all of the school's female and unisex restrooms, and we worked with Sylvia's Sisters to get legislation passed at the state level to require all public schools to provide free period products in their restrooms.
28 Days of PERIOD was a unique initiative of our PERIOD chapter this year to spread awareness about period poverty/stigma and menstrual inequities, both close to home and around the world. To expand our reach as much as possible, we recruited the help of students from various schools and organizations (you can find a full list of our partner institutions here: https://tinyurl.com/28dop2021calendar).
During this event, we were able to:
collect over 4,000 menstrual hygiene products for women in the community, thanks to the generosity of the MLWGS community;
assemble almost 200 menstrual hygiene product kits, which were distributed to Latinos in Virginia Empowerment Center's food and basic necessities drive;
collect 100+ cards in Spanish and English to put in our menstrual hygiene product kits;
organize a multitude of different guest speaker events, fundraisers, and educational presentations (you can find a complete calendar/list here: https://tinyurl.com/28dop2021calendar); and
learn about and educate the community about issues ranging from hypothalamic amenorrhea to the problems menstruators face in the prison system to the gaps in access to period products and reproductive health education for minority communities.
We also launched a jewelry sale to raise funds to purchase more menstrual hygiene products to distribute, which will be ongoing at school on Tuesdays and Thursdays at lunch in the cafeteria until the end of the year.
For our grand finale event on May 28th, international Menstrual Hygiene Day, we held a U.S.-Uganda Roundtable in collaboration with Sylvia's Sisters, which you can view here: https://youtu.be/0mdZJDmdN18. As a part of this event, we compiled a question-and-answer video where students from the U.S. and Uganda answered each other's questions about periods, period stigma, and what it is like to be a menstruator/girl in each country. Here is a link to watch just that video: https://www.youtube.com/watch?v=5hKQeZYM_do
---