AP Information for Students and Parents
The week prior to the Holiday Break, AP teachers distributed the 2015-2016 AP Bulletin for Students and Parents as well as handouts explaining the process for the 2016 AP registration.  Please ask your child to share this information with you.  AP Exams this year will be $92 each.  Please keep in mind, however, that this up-front cost can have a huge payoff.   For example,
Students can earn college credit for college courses in a variety of subjects. Depending on the school, scoring a 3, 4 or 5 on the exam can earn students one or two semesters worth of college credit.
With enough AP (and/or dual enrollment) credits, it is possible for students to begin college as a second-semester freshman or even as a first-semester sophomore.  For example, attending a private school starting as a second semester freshman, can save more than $25,000 in college costs. Starting as a first semester sophomore potentially saves more than $50,000.
Here are the important dates:
February 8        Online registration begins (go to totalregistration.net/AP/471851)
February 23-26 AP Fees collected in the School Counseling Office
February 26      Online registration ends (after this date a late fee will apply)
If you have any questions please contact Penny Deck in the School Counseling office.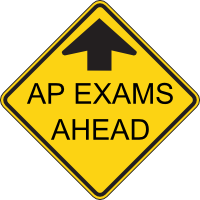 ---