Maggie L. Walker Governor's School sponsors a wide variety of varsity and junior varsity sports teams for both boys and girls, where over 95% of student-athletes earned All-Academic status with a grade point average of 3.0 or better. We compete on the Virginia High School League (VHSL) 3B-Region, Colonial District, and we also regularly compete against many local schools, such as Douglas Freeman, Deep Run, Glen Allen, JR Tucker, Hermitage, and Mills Godwin, Hanover and Powhatan.
VHSL Athletic Calendar  VHSL Athletic Forms -scanned in as a completed one page PDF file to the Activities Director.   
Student-Athlete Concussion Policy 4090 and Concussion Management Guidelines Policy 4090-R
If additional information is needed contact our Activities Director or use the sports links below to contact the coach.
Fall Sports                     
 Team
 First Practice
 Location
Cross Country, Boys
August 1, 2022

8:00am-10:00am

 Byrd Park
Cross Country, Girls
August 1, 2022

8:00am-10:00am

 Byrd Park
Field Hockey, Varsity
August 1, 2022, 8:30am-10:30am
Maggie Walker Athletic Field
Field Hockey, JV
August 1, 2022, 8:30am-10:30am
Maggie Walker Athletic Field
Golf, Varsity

July 25, 2022, 9:00am

 The Crossings
Volleyball, Boys Varsity, Connor Dixon,
August 1, 2022, 3:00-5:00pm
Richmond Volleyball Club, 2921 Byrdhill Road
Henrico, VA 23228                               Court 1
Volleyball, Boys JV, Kody Tingler
August 1, 2022, 3:00pm-5:00pm
Richmond Volleyball Club,2921 Byrdhill Road
Henrico, VA 23228                               Court 1
Volleyball, Girls JV, Gregory Knight
August 1, 2022, 1:00pm-3:00pm
Richmond Volleyball Club, 2921 Byrdhill Road
Henrico, VA 23228                               Court 1
Volleyball, Girls V, John Feeney
August 1, 2022, 1:00pm-3:00pm
Richmond Volleyball Club, 2921 Byrdhill Road
Henrico, VA 23228                               Court 1
 Christy Turnbow
Sports Medicine (Athletic Trainer)
804-840-1146
Winter Sports                                        
| | | |
| --- | --- | --- |
|  Team |  First Practice |  Location |
| Basketball, Boys Varsity, Dr. Cedric Moore and Justin Baldwin | November 7, 2022; 6:00am |  MW Gymnasium |
| Basketball, Boys JV, Mark Massey | November 7, 2022: 330-530 | Randolph Community Center, 1415 Grayland Ave. 23220 |
| Basketball, Girls Varsity, Speedy Baughman | November 7, 2022: 530-730 |  MW Gymnasium |
| Basketball, Girls JV, TBA | November 7, 2022; 530-730 |  MW Gymnasium |
| Dance Team, Kim Forquer | November 7, 2022 |  MW Gymnasium |
| Indoor Track, Boys Jim Holdren | November 7, 2022 |  MW Track |
| | | |
| Indoor Track, Girls  Deborah Snagg | November 7, 2022 |  MW Track |
| | | |
| Swimming, Boys, Deanna Gulick | November 7, 2022 |  Swansboro Pool |
| | | |
| Swimming, Girls, Heather Kemmerly | November 7, 2022 |  Swansboro Pool |
| | | |
| Wrestling, Varsity            Don Blanton | November 7, 2022 |  MW Wrestling Room |
|  Christy Turnbow | Sports Medicine (Athletic Trainer) |  804-840-1146 |
Spring Sports
 Team
 First Practice
 Location
Baseball, Varsity, Ellis Olivera
February 21, 2023, 3:30pm-5:30pm
Chandler Middle  School
Outdoor Track, Boys Jim Holdren
February 21, 2023 3:30pm-5:30pm
 MWGS Track
Outdoor Track, Girls, Deborah Snagg
February 21, 2023 3:30pm-5:30pm
 MWGS Track
Tennis, Boys Varsity, Jennifer Todd
February 21, 2023 3:30pm-5:30pm
 MWGS Courts
Tennis, Girls Varsity, Hillary Gawne
February 21, 2023 3:30pm-5:30pm
 Battery Park
Soccer, Boys Varsity, Laurent Beausergent
February 21, 2023
 MWGS Field
Soccer, Boys JV, Tucker Collins
February 21, 2023
 MWGS Field
Soccer, Girls Varsity, Jim Thomas
February 21, 2023
MWGS Field
Soccer, Girls JV, Shannon Rubin
February 21, 2023
 MWGS Field
Softball, Varsity, Megan Gowen
February 21, 2023

3:30pm-5:30pm

Virginia Union University
 Christy Turnbow
Sports Medicine (Athletic Trainer)
 804-840-1146
Congratulations Class of 2021 on Senior Athletic Signing Day: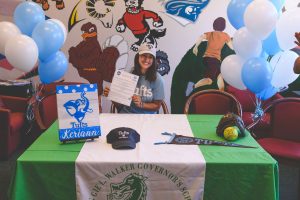 Keriann Slayton (Hanover) – Tufts University