MLWGS Winter Dance and freshman lock-in, December 9th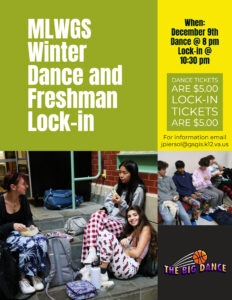 The Winter Dance and freshman lock-in will be held on Friday, December 9th, from 8:00 pm–10:30 pm (dance) and 10:30 pm-6:00 am (lock-in).  All classes and guests are welcome to attend the dance, but the lock-in is for Maggie Walker freshmen only.  Tickets are $5 for the dance or the lock-in and $10 for both.
If students plan on bringing a guest from outside the MLWGS community to the dance, they must submit a form, which will be available on Schoology or can be picked up in Ms. Valenta Williams' office in room 100.  A parent memo and permission form will be available on Schoology, and a hard copy will be sent home with students through their English classes the week of 11/28. Tickets will be on sale the following week (12/6-12/8), and students attending the lock-in must bring their signed permission form along with payment in order to obtain a ticket.
If you have any questions, please contact the freshman class sponsor, John Piersol, at [email protected].
---