MW Hall of Fame Induction Ceremony Tuesday, January 31 @ 6:30 pm
We invite and welcome all to the 2023 Hall of Fame Induction Ceremony to be held in the MLWGS gymnasium at 6:30 pm, Tuesday, January 31st, showcasing some of the outstanding representatives of the school's legacy. Your ceremony host is our own Paige Hawkins, MLWGS Athletic Director.
2001 MWGS BOYS STATE CROSS COUNTRY TEAM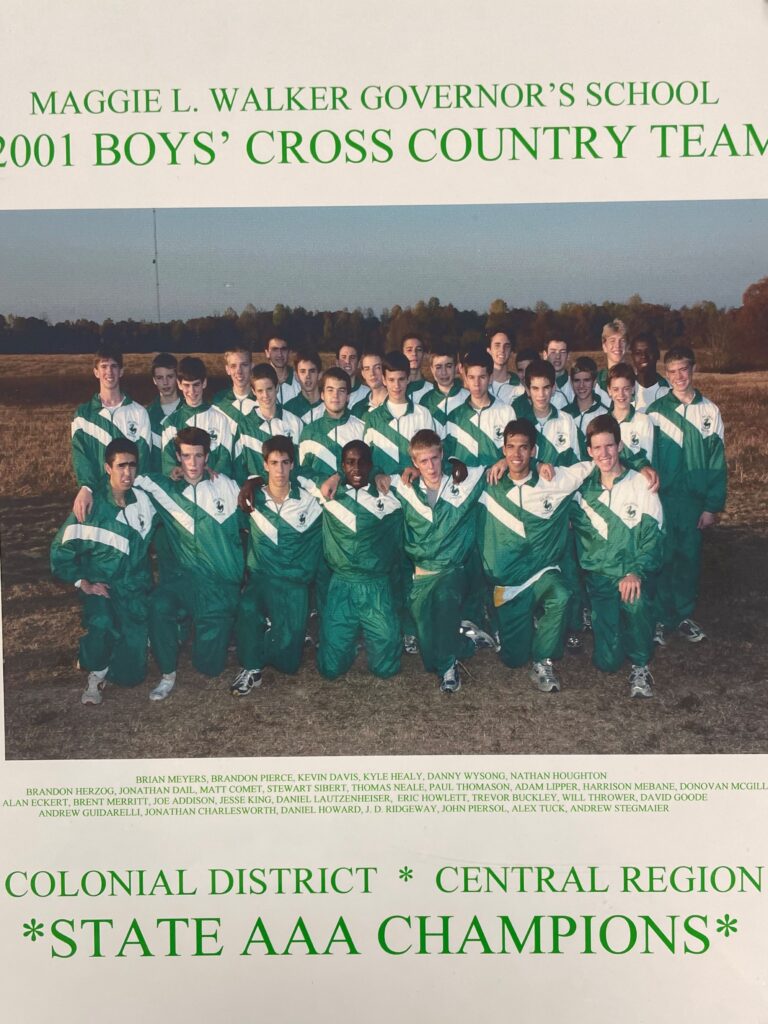 Returning all but one member from their 2000 Thomas Jefferson/Governor's School squad which finished 3rd in the Region and 11th in the State, the inaugural Maggie L. Walker Governor's School Boy's Cross-Country team had been accorded great pre-season respect with a top 5 State AAA ranking, despite being the smallest AAA school in the state with less than 580 students. Expected to play major roles in our 2001 campaign were seniors John Piersol, the defending District and Regional Champion, J.D. Ridgeway, Alex Tuck, Andrew Guidarelli, and Jonathan Dail. Junior Jonathan Charlesworth and a host of talented sophomores led by Daniel Howard and Andrew Stegmaier. From the outset, the Green Dragon's season mission had been to prove that the state handicappers had, if anything, underestimated them. Capitalizing on a summer of preparation and a week of bonding at Camp Varsity, the team more than fulfilled all the pre-season expectations. On September 5, the second day of school, before they even had ample time to learn their way around their newly renovated, state-of-the-art, home on Lombardy Street, the Green Dragons open their 2001 season with decisive victories over host Lee-Davis, Highland Springs, Varina, and John F. Kennedy at Pole Green Park in Hanover County, and roared through the regular season with a 10-0 dual meet record. They opened their invitational season with a victory at the Fork Union Invitational, finished 2nd at both the William & Mary and Wolverine Chase Invitationals, and closed the regular season by upsetting Maryland's national-ranked Good Council High School to take the team title in the seeded varsity division at the prestigious Georgetown Prep Invitational. With only 2nd place finishes to Thomas Jefferson Science and Technology at the Wolverine and William & Mary Invitationals to blemish their otherwise perfect regular season, the Green Dragons entered the championship portion of the season ranked 3rd in the State behind the 2000 State Champions Midlothian and Thomas Jefferson Sci Technology. The first of the Championship races was the District Championship, where senior John Piersol set a new District and course record in leading the varsity to the team title. Joining John on the All-District Team were Daniel Howard, Andrew Stegmaier, J.D. Ridgeway, and Jonathan Charlesworth. When they upset the defending state champs to win the Regional title, a week later, they realized they had an opportunity to do something that they would remember the rest of their lives. Capping an incredible season, the Maggie L. Walker Governor's School Green Dragon boy's cross-country team surprised almost everyone but themselves to win the 2001 State AAA Cross Country Championships by a narrow two-point margin over their Central Region rival and defending State Champions Midlothian. It was the perfect finale to an amazing season.
JAMES EDWARD CAUTHORNE (ARTHUR/SMOKE)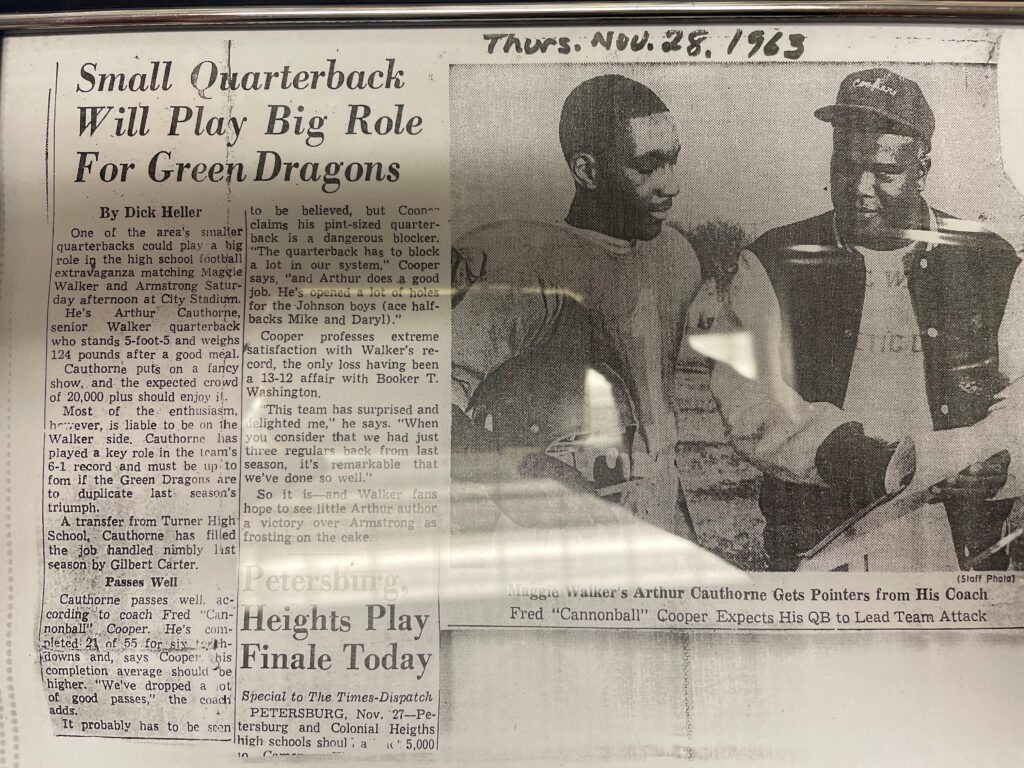 Mr. Cauthorne attended MWHS and played football, basketball, and baseball for the school before graduating in 1964. Arthur's rise to prominence was the personification of luck! He understood that luck was a preparation meeting of opportunity and he was a true athlete, sportsman, and team player. While not being on the football team as a player at the time, it never stopped him from being a team player and he soon joined as the teams manager and trainer, and proved that mastering taping and many other skills supporting the players and coaches was his main job. Smoke's relationship with Cannonball Cooper, was more like a father and son. They built a mutual trust to the point that eventually allowed him to become the starting quarterback in his senior year. Arthur's most memorable play was against a Newport News school in the championship when he took the snap, faked a handoff, and threw to Michael Johnson for a walk-in touchdown.
Weldon Edwards was born and raised in Richmond, VA during one of the most racially contentious times in American history. He attended Maggie L. Walker High School where he excelled not just academically but also as a star member of the track and football teams under the tutelage of coaches Archie Henderson, Howard Hopkins, and Cannonball Cooper, respectively.
Edwards was an impressive student-athlete posting personal bests in Track and Field of 9.6 seconds for the 100-yard dash (a record he still holds today), 21.0 seconds for the 220-yard dash, and 22 feet, 11 inches for the long jump. In 1969, Weldon earned the chance to compete in the National Junior Olympics in San Diego, CA for the 100-yard dash where he placed 4th with a time of 9.7 seconds. This opportunity and his performance brought national attention to both Edwards and the City of Richmond, so much so that college recruiters began approaching Coach Henderson and Hopkins and Weldon's family for their sports programs.
Mrs. Amanda Edwards felt strongly that her son should attend the school that would give him the best chance at a good education and would not take him too far from home: the University of Richmond (UR). In the mid to late 1960s, the University began admitting students of color into its academic and sports programs following the historic 1954 Supreme Court landmark decision of Brown vs. the Board of Education. After much prayer and with the encouragement of the Maggie L. Walker track and football coaches, turning down offers from other prestigious universities and colleges such as Dartmouth College and the University of Pennsylvania, Edwards agreed with his mother and decided to accept the offer of UR's head coach, Frank Jones, and became a Spider.
Weldon's decision would not only change his life but it would make history. In the Spring of 1970, he joined the freshman team at UR as an Offensive Back, making him the first "Black" football player for the University of Richmond. At 6-foot-1 and 193 pounds, #22 was a formidable player but he had to tackle more than just the defense. He also had to fight racial discrimination, segregation, and prejudice on campus. But with the help of coaches and mentors like UR's Jim Tait and Louis Evans and his fellow teammates, Weldon succeeded. "As a football player, you must block out everything except what you're focused on. Football made people come together to work on a common cause, and because a brotherhood was formed between those of us on the team at the time … we were able to be those bricks," says Weldon in his interview for the book, Coach Jim Tait: A Blow by Blow Lesson on How to Win at the Game of Life.
In 1971, a knee injury against West Virginia University sidelined him for the season but after rehab, Weldon was able to heal and regain his speed enough to compete in the 1972 Southern Conference 60-yard dash indoors. This win earned him a trip to the NCAA Division I Nationals later that year in Detroit, Michigan. A subsequent knee injury in 1974 from a car accident would end his gridiron career but not his love of competitive sports. After earning his bachelor's in Sociology from UR, he was hired by Coach Tait to be an assistant football coach, marking another "first" for the Richmond-native. His active participation in coaching and flag football and softball would help cement his legacy as one of the most successful student-athletes to come from Maggie L. Walker High School.
Mr. Edwards would later go on to work for Loveland Distributing and Philip Morris, all of which has led to his current work with The Auto Connection as a car salesman. He credits his ability to work with others from his time at the University of Richmond and other opportunities in sports and education.
Mr. Edwards' mark as "the first" opened the door to student-athletes of color across the state of Virginia. On February 18, 2022, he was recognized by the Virginia General Assembly with the House Joint Resolution No. 175 for his trailblazing accomplishments. The University of Richmond honored Weldon in August of 2022 with a weekend of events dedicated to his history-making achievement at the university. He also served most recently as the Grand Marshall for the Maggie L. Walker-Armstrong Classic 2022 weekend.
Weldon currently resides in Richmond, VA with his wife of 24-years, Quincy.
DARYL JOHNSON (no photos provided)
Mr. Johnson was a resident of the northside of Richmond and graduated from Maggie Walker High School in 1968. He played baseball and ran track while playing football at MW on the 1962 State Championship Team. He was a starter on offense and defense, and the place kicker between his junior and senior year. Daryl scored 19 touchdowns for the team. He went on to play at Morgan State University earning two All-American selections as a running back. After college Daryl was drafted and played 8 years for the Boston Patriots (New England) and was selected to their all-time team of the 60's. Daryl Johnson now resides in Havervill, Massachusetts.
MICHAEL JOHNSON (no photos provided)
Michael Johnson was a resident of the northside of Richmond where he played football and ran track at MWHS. While playing football for the 1962 State Championship team he was a starter on offense and defense. Michael compiled 18 total touchdowns in his junior and senior years. After high school he went on to attend North Carolina State University and currently resides in Fairfax, VA.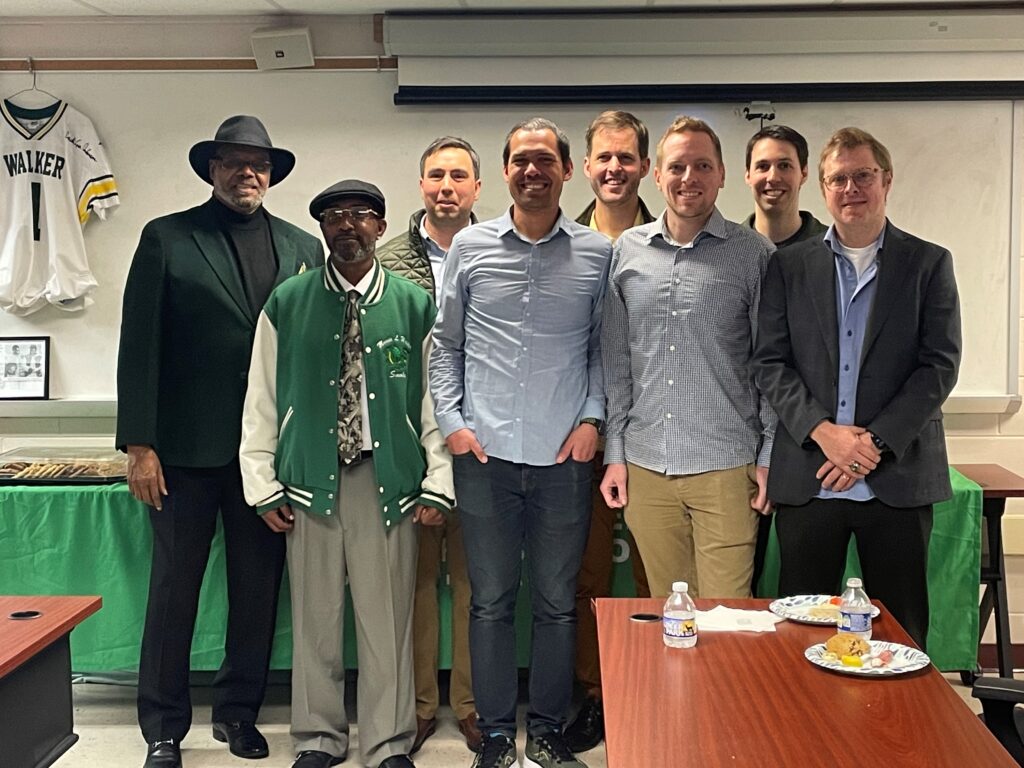 ---