The MLWGS Regional School Board is committed to a policy of nondiscrimination with regard to race, color, religion, national origin, ancestry, political affiliation, sex, sexual orientation, gender,
gender identity, age, marital status, genetic information or disability, or any other characteristic
protected by law. This attitude will prevail in all of its policies concerning staff, students, educational programs and services, and individuals and entities with which the Board does business.
The Maggie L. Walker Governor's School for Government and International Studies is fully committed to diversity and recognizes that a diversity of perspectives leads to a strong educational community. Maggie Walker is thus committed to recruiting and retaining students, faculty, and staff who are not only highly able but who also value our international mission and represent the diversity of the world we share.
Regional School Board Resolution Condemning Racism, adopted June 18, 2020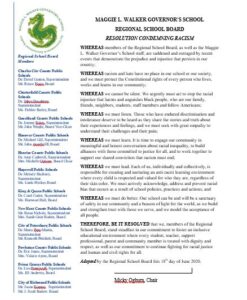 Also, see the approved Strategic Plan.