2 National Medalists in the 2018 Art & Writing Scholastic Awards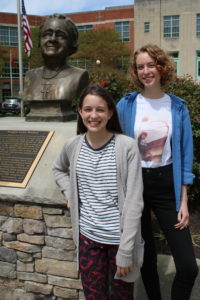 We are pleased to announce that the following students have earned National Medals in the 2018 Scholastic Art & Writing Awards, presented by the Alliance for Young Artists & Writers; Kristin Hines ('18-Richmond) and Maggie McKenna ('20-Henrico). Their work was selected by creative professionals as the most accomplished in the nation. This year, nearly 350,000 works of art and writing were submitted. Less than 1% were recognized at the national level. Students receiving top Awards have been invited to attend a ceremony at the world-famous Carnegie Hall on June 7 and to participate in showcase events at Parsons School for Design at The New School and Pratt Institute's Pratt Manhattan Gallery in New York City.
Kristin won a Silver Award in the Drawing and Illustration category and Maggie won a Silver Award in the Short Story category. We are proud to have Kristin and Maggie representing MLWGS in this year's Scholastic Art & Writing Awards.
---