2016 – 2017 Scholastic Art Awards: Southeast REGION AT LARGE
We are very excited to announce that our talented students in the fine arts were recently honored by having their work selected in this year's Scholastic Art competition.   This is a highly competitive art show which was made more so by competing in the Southeast Region-at-Large.  Despite this, our students had another record-setting year of recognizing Maggie Walker as one of the region's top schools for the Arts and receiving more awards than any other local school!
Awards Summary
76 Total awards (New record)
19 Gold Keys awards including 4 Gold Key Portfolios
(2 Gold Art Portfolios, 2 Gold Photography Portfolios, 11 Photo Gold Keys, 4 Art Gold Keys)
21 Silver Keys awards including 1 Silver Key Portfolio
(1 Silver Photography Portfolio, 13 Photo Silver Keys, 7 Art Silver Keys)
36 Honorable Mentions including 2 HM Portfolios
(2 HM Art Portfolio, 18 Photo HM, 16 Art HM)
Gold Key winners' work will move on to the Alliance for Young Artist and Writers national adjudication process, where he/she will be eligible for further recognition and scholarship opportunities.  Adjudication of Gold Key works will take place in New York City and award winners will be announced in March.
The following are samples of Walker's award-winning student art.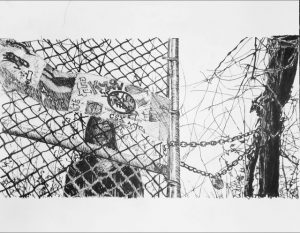 Audrey Paiva, Locked in the Cut, pen and ink

Izumi Miyazaki, Scroll, Pen and ink
---