Debate and Forensics Return from California with Heads Held High!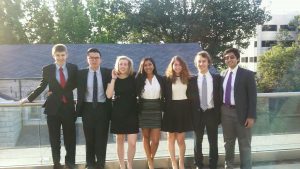 The Maggie L. Walker Governor's School Debate and Forensics Programs battled jet lag, 5:30 A.M. wake up calls for competitions, and up to 12 hours of competition as part of the Catholic Forensic League National Championship competition in Sacramento, California over Memorial Day Weekend.  Participating for Forensics in her second time qualifying for the Nationals was Genna Markee.  First time qualifiers Ananya Suram and Emily Ma also performed admirably.  Stealing the show in Forensics was Naomi Vickers who made it to the Quarterfinals of Oral Interpretation for her piece "Black Lives Matter." 
The debate group included first time qualifiers Claire Mendelson, Dharaa Rathi, Ryan Lucia, and John Li.  George Moss and Sreekar Kandlakunta returned for their second national tournament and came close to qualifying for the final rounds.  Sophia McCrimmon managed to go 4-1 on the first day of the tournament, but did not qualify for the final round based upon an unusual tiebreaking formula.  Her only loss in the tournament was to the first place finisher.

Please join in congratulating these fantastic students and expressing gratitude to their coach Mr. Dan Brown.  Photo and summary courtesy of Mr. Brown.
---