All-Virtual Executive School Board Meeting on Thursday, September 17, 2020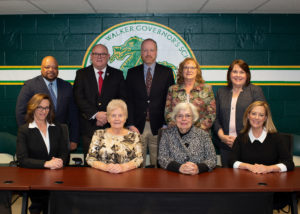 An All-VIRTUAL meeting of the Maggie L. Walker Governor's School Executive Board will be held on September 17, 2020, at 9:00 am. We are utilizing the Zoom platform for this live meeting but will also record for public viewing at any time. To listen to the meeting live use this link.
On the agenda for approval is an Anti-Bullying Proclamation. Other items for discussion include the first notice to participating divisions of their AY22 enrollment commitments due by December 1st and other school activities.
The September meeting packet can be viewed here.
Persons wanting to address the Executive School Board during the public comment period are invited to use this form to submit their comments by 10:00 am, Wednesday, September 16, 2020, or email their remarks to the Board Clerk.
---