All-Virtual Regional School Board Meeting on Thursday, August 20, 2020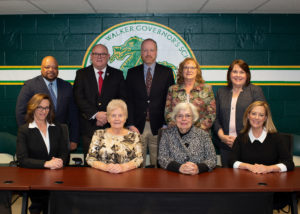 An All-VIRTUAL meeting of the Maggie L. Walker Governor's School Regional Board will be held on August 20, 2020, at 9:00 am. We are utilizing the Zoom platform for this live meeting but will also record for public viewing at any time. To listen to this meeting use this link: https://us02web.zoom.us/j/83205321891?pwd=QmptTWtKWjh6QVZOUlNsQXRwNkZSUT09
On the agenda for approval are several items including the updated strategic plan 2020-2025, multiple amended policies and regulations, the student handbook for this academic year, and the amended school operating calendar. Approval for a request from Colonial Heights Public Schools to join Maggie L. Walker Governor's School starting in the academic year 2021-2022 as a participating division is also included for action.
The August meeting packet can be viewed here.
Persons wanting to address the Regional School Board during the public comment period are invited to use this form to submit their comments by 10:00 am, Wednesday, August 19, 2020, or email their remarks to the Board Clerk.
---