AP Exam Ordering Information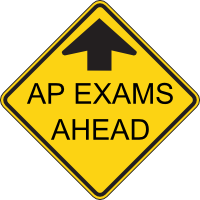 Students enrolled in Advanced Placement courses: AP students should complete the AP Exam Ordering Form (https://forms.gle/WYjkQv1SwAQCBQ4i9) to indicate which AP tests you plan to take (or not take) in May of 2021. AP exams are $95 per exam. In order to have an AP exam ordered for you, you must complete the following tasks by October 23rd, 2020:
Join the AP course(s) in your collegeboard.org account. Your teacher can help you with this if you have not already completed this task. (If you are self-studying for an exam, you will need to obtain an "exam only" code from Dr. Loving after your exam has been approved. NOTE: AP Statistics is pre-approved and Ms. Riles can provide the code.)
Complete this AP Exam Order Form and indicate all exams you wish to take or not take this year. (If you DO NOT intend to take one or more of your AP exams, you STILL DO need to complete this form so that we have a record that you wish for the school to NOT order an exam for you.)
Pay for your exams ($95 per exam) at https://osp.osmsinc.com/MLWGS. (The link can also be found on mlwgs.com by clicking "pay fees online.")
If you feel you might qualify for a fee waiver or fee reduction, please review the Fee Waiver/Reduction Application (https://drive.google.com/file/d/1bpkRBP_3F5Kctb7h6uH4N2u7JXDu88zu/view?usp=sharing) for income guidelines. Please complete and return this form to Dr. Loving at rloving@gsgis.k12.va.us by October 19th, 2020. Dr. Loving will be in touch about your request approval. Students who have submitted this form previously and have been approved do not need to apply again this year.
October 23rd is the deadline for "on-time" registration. A $10 per exam late fee will be applied between October 24th and November 12th for exams not paid for by October 23rd. The College Board late fee of $40 will be instituted beginning November 13th. March 12th is the final deadline for all late AP exam orders; no additions can be made after this date.
For the 2020-2021 academic year, the College Board has waived the cancellation fee for any student who decides not to take an exam in May. For planning purposes, the MLWGS deadline for cancelling an exam is April 13th.
January 15th is the deadline to apply for College Board accommodations for a documented disability. Please contact Ms. Cobb at jcobb@gsgis.k12.va.us no later than January 11th to begin this process.
Click here to view the May 2021 AP Exam Schedule: https://apcentral.collegeboard.org/courses/exam-dates-and-fees
See this AP Ordering Information document for complete details: https://docs.google.com/document/d/1yx0NkUBxpMd8FqHfaUjXyVLLD8Nw3qcqrccl6KcDC3s/edit?usp=sharing
---