Congratulations Alexander Nikolov, 2019 Presidential Scholar!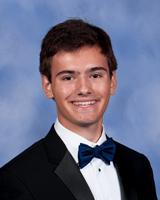 Alexander E. Nikolov (Henrico)
College: University of Pennsylvania
Memorable Accomplishment: Alex said, "I am most proud of my work as a research analyst at Mangum Economics, an economic consulting firm. In that capacity, I conducted a research report on school choice in Virginia that will be presented to the General Assembly in their next legislative cycle. This report seeks to promote educational opportunity for low-income students across the Commonwealth and I truly hope it will have a positive outcome."
Recipients of the Presidential Scholars award are one young man and one young woman chosen from each State, the District of Columbia, Puerto Rico, and from families of U.S. citizens living abroad by the White House Commission on Presidential Scholars. From the nationwide class of 2019, Alexander Nikolov was chosen to represent Virginia and is one of the 161 total scholars chosen from a field of millions of high school seniors to earn this honor. Alexander was recently notified of the Scholars status by a letter from Secretary of Education Betsy DeVos. Application for the U.S. Presidential Scholars Program is by invitation only. Students may not apply individually to the program or be nominated. These Scholars have all demonstrated leadership, scholarship, contribution to school and community, and outstanding accomplishments in the arts, sciences humanities, and other fields of interest. A complete list of the 2019 Scholars may be found at http://www.ed.gov/psp.
Several of Alex's teachers reacted to this announcement with pride and gladness. AP Comparative Government teacher, Mr. Matt McGuire, said "Alex is an excellent choice, he's an exceptionally gifted student. It's hard to imagine a student who is more bright and curious." Harold Houghton, AP Physics, observed that Alex "is rather unique among my current students at asking questions that take the class deeper into the material. Questions that demonstrate that he has already thought about the question at length before expressing the question. Questions that demonstrate a sophistication of thought that is more profound than anyone else is demonstrating."
Dr. Bob Lowerre, MLWGS Director, added "Alexander is simply an outstanding young scholar. He exemplifies everything that this program seeks to recognize and he is well-deserving of this honor. I will be excited to hear from him in the future to see where his path has taken him."
The Scholars have been invited to the National Recognition Program (NRP) in Washington, D.C., in June along with a teacher of their choice. Alexander has chosen Mrs. Lynn Reed, Mathematics. Mrs. Reed said, "I've had the privilege of teaching Alex for three years, and I am impressed with his positive outlook, strong work ethic, and intellectual curiosity. He is not only highly intelligent, but also friendly and considerate. In short, Alex is an extraordinary student!"
A high point of NRP will be the presentation of the U.S. President Scholar medallion to each Scholar.
---