2 Dragon teams to attend the 2019 Modeling the Future Challenge, April 11-12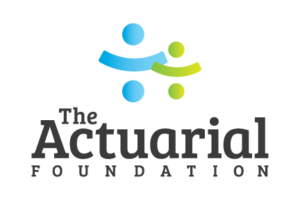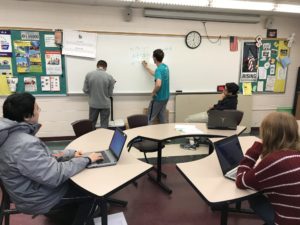 Seniors Derek Chen, Nicolas Ferree, Thomas Blue, Ryan Kaplan, and Mary Caroline Heinen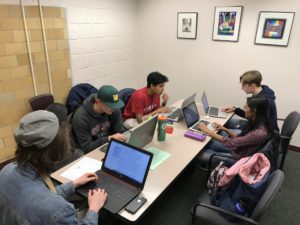 Madoc Kimball, Henry Coates, Nikhil Brahmapuram, Russell Graviet Jr., and Shivani Kundalia
Congratulations to the Modeling the Future Challenge Finalists! Maggie Walker had two teams qualify for the finals which include an all-expenses-paid trip to Chicago April 11th to present their papers. The students will be accompanied by their teacher Mr. Dickson Benesh and one of their parents on this competition. See more details below. The teams are:
MLWGS Team 6
Mary Caroline Heinen – '20-Richmond Public Schools
Ryan Kaplan – '19-Henrico County Public Schools
Derek Chen – '19-Henrico County Public Schools
Thomas Blue – '19-Richmond Public Schools
Nicolas Ferree – '19-Chesterfield County Public Schools
MLWGS Team 7
Henry Coates – '19 – Hanover Public Schools
Nikhil Brahmapuram – '19-Henrico County Public Schools
Russell Graviet, Jr. – '19-Chesterfield County Public Schools
Shivani Kundalia – '19-Henrico County Public Schools
Madoc Kimball – '19-Henrico County Public Schools
Hosted by The Actuarial Foundation, the Modeling the Future Challenge has seen amazing progress in all areas of the competition. The growth in the number of schools and teams participating has been staggering. Along with that, the level of competition has increased more than we could have imagined. From 52 teams in our inaugural year to 191 teams this year, the competition has already become a great challenge for students to test their own skills in data analysis, mathematical modeling, and projecting risks from expected changes in the future.
With a new challenge theme and a new qualifying round of scenario responses, we have once again been amazed by the submissions! 70 teams were selected from the pool of 191 entrants to move on to the semi-finalist phase where you were paired up with actuary mentors to help refine your research and report on the impact a future treatment or cure for a disease may have on our lives! This work has been stellar and the final reports demonstrate the high level of effort that went into defining your models, projecting trends, and analyzing the risks.
Actuaries are always looking at different ways to analyze the data at hand to make sound determinations of risk and to help companies, governments, or organizations make the best decisions about the future. You are to be commended for stepping up to this Challenge and completing a task that not too many of your high school peers could accomplish. Just becoming a Finalist for the Modeling the Future Challenge puts you in an elite league of, as one student put it, "mathematical wizards!"
You should be extremely proud of your work in the Modeling the Future Challenge. This year's challenge was more competitive than ever, and being selected as a finalist was no easy task. We're very much looking forward to meeting you and your team at the Modeling the Future Symposium. Please take the next month before the Symposium to think about how you can continue to improve your report and create an amazing presentation. Take the information the judges provided to heart!
Not only will the Symposium be an intense review of your work, but it will also be a fun, inspiring program to introduce you to more details about the life of an actuary. You'll meet young actuaries and senior executives alike. You'll have time to explore the city of Chicago and hear from special guests including the Executive Director of the Harvard Stem Cell Institute.
Congratulations and welcome to our new family of Modeling the Future Challenge Finalists. We can't wait to see who will take the top awards and become the Modeling the Future Challenge Scholars on April 11th and 12th!
Jason Leppin, Executive Director, The Actuarial Foundation
---