Dragons in Wales, Tuesday, December 3rd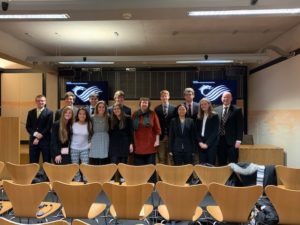 Mr. Matt McGuire's AP Comparative Government students are on an interdisciplinary trip to London and Cardiff this week to learn about the Westminster Parliamentary system and about the differences between the United States/United Kingdom politics. Faculty members Mr. Dan Brown and Ms. Kerry Sheppard are also accompanying our students on this trip. Today our Dragons arrived in Wales.
There are four countries in the United Kingdom. Wales and Scotland have their own devolved governments that have great power and act almost like one of our state governments. Each country also has a very significant minority that wishes to secede from the United Kingdom and form their own independent states. So nationalism will be a major topic on this part of the trip.
The Dragons left London early this morning by motor-coach for Cardiff (Wales capital-similar to Richmond in size). They have or will soon meet with their former First Minister Carwyn Jones (First Minister is the country's chief executive). Then they will see the current chief executive face questions from colleagues during First Minister's Questions. In the afternoon, our group will meet with Adam Price, who leads the Welsh nationalists within their National Assembly.
Thank you for representing Maggie Walker Governor's School in such an impressive fashion. We hope you enjoy the remainder of this trip and look forward to seeing everyone back in Richmond next week.
---