Evergreen Engagement Workshop – Saturday, November 4th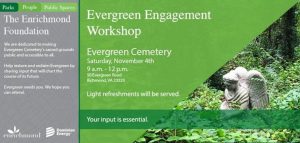 The Enrichmond Foundation is working to ensure a smooth and successful restoration of the historic and sacred grounds at Evergreen Cemetery, where Maggie Walker is interred. If you're interested, you can learn more about the significant endeavor here.
This invitation invites you to attend the Evergreen Engagement Workshop on Saturday, November 4 at 9 a.m. at Evergreen Cemetery. At the event, we're asking the community to make their voices heard about the future of Evergreen.
Community feedback is essential to this project, and we really appreciate your help in spreading the word about this important event. Here's the link to the Facebook event, too, in case it's helpful: https://www.facebook.com/events/229453157588130/
---