Good Luck to 'We the People' Competitors at State, Feb 1-2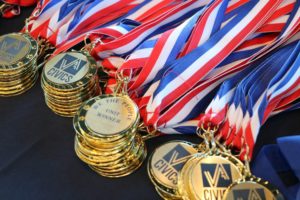 Photo credit: VA Civics
The Virginia State 'We the People' Finals are here. The event is open to supporters. Come see what Virginia's best and brightest students think about government issues.
Students are divided into units and prepare a presentation on their focus area then participate in simulated Congressional hearings on a wide variety of topics from natural rights to immigration and Congressional representation.
The MLWGS team will be in Charlottesville on February 1st and 2nd. Good luck team members!
Team Sponsor and Teacher: Mr. Sam Ulmschneider
Team Members:
Cameron Baird
Megan Bale
Thomas Blue
Katelynn Bortz
Nikhil Chandravel
Emily Dai
Cara Davis
Madeline Dunn
Silas Hayes
Lawrence Jia
Ashton Longo
Sive Lowell
Veronika Matysiak
Kaitlin McCullough
Cole Mier
Joseph Mistretta
Lauren O'Neil
Marina Peebles
Reona Pereira
Adam Sachs
Kamya Sanjay
Spencer Smith
Grady Trexler
Yashodhara Varma
---