Goodbyes and Hello/Welcome to MLWGS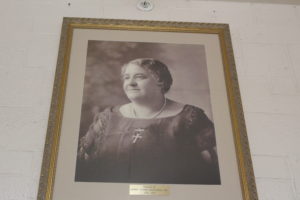 With great fondness and sincere gratitude for their service, we said goodbye to the following faculty members last June.
Dr. Ainslie McLees and Ms. Donna Bennington retired. Ms. Samar Abushkheidem relocated over the summer with family. Dr. Kevin Webster is now employed full-time at VCU. And, Mr. Frank James and Mr. Karl von Klein both left for new opportunities.
Looking forward, please join us in welcoming our newest faculty members for the 2018-2019 academic year:
Ms. Devon Mattys – 1st Semester English Department (for Mrs. Boswell). We are pleased to announce the appointment of Ms. Devon Mattys, an alum from the Class of 2001, as the first-semester board substitute teacher for Mrs. Boswell. After graduating from GSGIS, Ms. Mattys earned her undergraduate degree from Bard College, and graduate degrees and certificates from Sarah Lawrence College and the University of Richmond. With an extensive background in theater, Ms. Mattys has also agreed to become the MLWGS Drama Sponsor for 2018-2019.
Ms. Jilliana Hicks, Attorney-at-Law – Social Studies Department. Ms. Hicks has worked for MLWGS for a few years now, previously as a long-term board substitute followed by an on-call substitute teacher. We are pleased she will be instructing one section in the Social Studies Department for the upcoming year. Ms. Hicks has had an impressive legal career after earning an undergraduate degree from the University of Virginia where she majored in History, then earning a Juris Doctoral Degree from the University of Richmond.
Mr. Nicholas Merillat – Jazz Band, Fine Arts Department. With stellar qualifications and recommendations, Mr. Merillat earned his undergraduate degree from James Madison University and graduate degrees from Ithaca College and Old Dominion University. Quoting Mr. Merillat; "my goal as a music teacher at MLWGS will be to provide a musical environment that challenges gifted students to achieve superior levels of musical performance, theoretical understanding, and aesthetic appreciation, and guide them to contribute, collaborate, and lead within the greater musical community."
Mrs. Christina Sienkiewicz – Orchestra, Fine Arts Department. After a relocation to Richmond, MLWGS has luckily obtained the services of Mrs. Sienkiewicz. As a mother of young children, two sections of Orchestra are a good fit both for her schedule and the schools. Mrs. Sienkiewicz earned her undergraduate and Master's degree at the University of North Carolina at Greensboro. In addition, Mrs. Sienkiewicz is a National Board Certified Teacher.
Mrs. Michelle Graham – Chorus, Fine Arts Department. Mrs. Graham joins MLWGS as our new Chorus teacher after retiring from a stellar career at Midlothian HS teaching several choirs and music theory. Mrs. Graham earned her undergraduate degree from Meredith College and a graduate degree from VCU.
Dr. Timothy Donahue – Science Department. Dr. Donahue returns to MLWGS after a 3-year absence to teach two-sections of Biopsychology. Dr. Donahue is also an Assistant Professor of the VCU Department of Psychology. To say Dr. Donahue is a Pittsburgh Steelers fan is an understatement, so if you are inclined, share your enthusiasm for this team with him.
Ms. Rana Khashroom – Arabic Language, Language Department. Ms. Khashroom was native to the country of Jordan and received her undergraduate degree from the University of Yarmouk and a graduate degree from the Arab Academy for Banking and Finance Education. Ms. Khashroom earned teaching experience in both Jordon and at Chesterfield County Public Schools. She is fluid in English and Arabic, and proficient in French. Ms. Khashroom is motivated to teach the students of MLWGS and expand their world knowledge.
Ms. Kyleen Terrana – French Language, Language Department. Ms. Terrana comes to MLWGS as our new full-time French teacher from Reynolds Community College and VCU where she taught for four and two years respectively. Ms. Terrana earned her undergraduate degree from SUNY College-Oneonta and her graduate degree from Syracuse University. She has been heard to say this week, "I am very excited to be a part of the dragon community!"
Ms. Amanda Lemco – Spanish Language, Language Department. Ms. Lemco is eager for the opportunity to teach full-time Spanish at MLWGS coming from a successful experience at Glen Allen HS where she taught upper levels of Spanish and AP Spanish and where her enthusiasm and dedication earned her the 'Glen Allen HS Teacher of the Year' honor last year. Before moving to VA she taught at South San Francisco High School in California for four years. Ms. Lemco earned her undergraduate degree from the University of Mary Washington and a study abroad program at Universidad De Deusto, Bilbao, Spain.
---