GSMUN XXII, March 22-23, with Keynote Speaker Ian Bremmer, President & Founder of Eurasia Group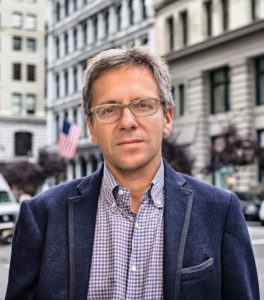 President and Founder of Eurasia Group, Ian Bremmer, to Speak at the 22nd Annual Governor School Model UN Conference
On the weekend of March 22-23, the Richmond Forum and the 22nd Annual Governor's School Model United Nations Conference (GSMUN XXII) will bring together students from around the east coast to learn more about our changing world and how we can make a difference.
Delegates will get to hear a talk by Ian Bremmer (pictured above), the President and Founder of Eurasia Group which is the leading global political risk research and consulting firm. Bremmer established Eurasia Group in 1998 with just $25,000. Today, the company has offices in New York, Washington, London, Tokyo, Sao Paulo, and San Francisco, as well as a network of experts and resources in 90 countries. Eurasia Group provides analysis and expertise on how political developments and national security dynamics move markets and shape investments across the globe. As the firm's president and most active public voice, Bremmer advises leading executives, money managers, diplomats, and heads of state. Maggie Walker is honored to host him as the keynote speaker for GSMUN XXII. Courtesy of a partnership with The Richmond Forum that began in 2015 with GSMUN XVII, the conference has been fortunate enough to host many prestigious keynote speakers, including the Honorable Ehud Barak, former Prime minister and Minister of Defense of Israel, Ben Bernanke, former Chairman of the Federal Reserve, and Gordon Brown, former Prime Minister of the United Kingdom.
In previous years, the conference has supported charities such as One Hundred Pounds of Hope and Project HOPE. Last year, GSMUN raised over $10,000 for Love146, a U.S. based international human rights organization that works to end child trafficking and exploitation. This year, GSMUN XXII is excited to be teaming up with the World Pediatric Project (WPP). WPP is an international charitable organization dedicated to the treatment of children in need of lifesaving care, the creation of reliable healthcare networks in developing countries, and training of local health professionals to become more capable at diagnosing and treating complex illnesses. We are set to surpass last year's donation and GSMUN is proud to lend a hand to further such an amazing cause. In addition to our keynote speaker, the conference is also hosting a charity speaker. This will be Sarah Iracane, the Chief Program Officer for the World Pediatric Project. Those wishing to make a business or individual contribution to the conference charity may contact gsmun.giving@gmail.com and more information on the charity can be found on their website at http://www.worldpediatricproject.org/
GSMUN brings students together from surrounding counties and cities to debate important international issues and to develop diplomacy in the next generation of world leaders. In March 2018, nearly 500 delegates from schools in central Virginia and surrounding areas discussed, debated, and found solutions for some of the greatest challenges facing our world today. GSMUN XXII has been organized through the year-long efforts of our eleven-person secretariat board and the Model UN club sponsor, Mr. Smith. Our committees this year include the Qing Dynasty Cabinet, a joint crisis on the fall of the Latin Empire, a tri-crisis on the Irish troubles, a fast-paced head delegate committee, and many more. These committees are the product of 10 months of planning by the secretariat board and our dedicated dais members. All the students and staff involved are incredibly excited to see the level of debate and fundraising that our delegates can bring throughout the weekend. For more information on the conference schedule and background can be found at https://www.gsmun.net/ .
---