Hurricane Preparedness at MLWGS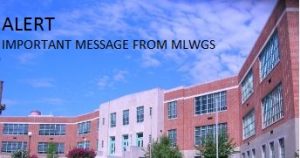 Maggie Walker Families,
The Governor's School is closely watching the path of Hurricane Florence and the predictions for its impacts on the RVA area. The administrative team met with department heads this afternoon in order to take precautions:
Securing loose equipment and items
Reviewing our plan for communication on school closures
Preparing sensitive areas and equipment within the school
Focusing on areas that historically have had issues with water infiltration
Additionally, we have advised teachers and staff on steps to prepare and secure their classrooms.
Currently, there are no changes to the academic schedule for this week. Some extra-curricular activities have been rescheduled or postponed on a case-by-case basis.
For information about potential closures later this week, there are several sources:
Website: www.mlwgs.com
Television: Channels 6, 8, & 12
Email & Phone: PowerSchool Alert Solutions
Thank you for your support of the Maggie L. Walker Governor's School!
---