Maggie L. Walker Collaborative Mural Honors her Many Accomplishments. Reveal Celebration on May 18th @ Noon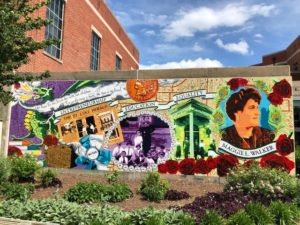 The collaborative mural project brings together current and former students to celebrate the trailblazing African American civil rights leader, Maggie L. Walker's many contributions.
A celebration will be held on Saturday, May 18th from 12 pm- 2 pm at the Bluestone Lobby Entrance Maggie L. Walker Governor's School for Government and International Studies, 1000 N. Lombardy St., Richmond, VA 23220 (please enter the W. Leigh Street entrance for the event). Over 400 people took part in the planning and painting of the mural.
While Maggie L. Walker, was finally honored in 2017 with a statue in Richmond, artist Colleen Phelon Hall, felt that Walker also deserved a vibrant and educational mural celebrating her many accomplishments. Hall felt the perfect place for this mural would be the historic school named for Maggie L. Walker, now the Governor's School. "We are now a city known for monuments and murals and I believe on both counts we need to reevaluate what stories we are celebrating. Many women and women of color like Maggie L. Walker helped build this city, few have been celebrated in public art or monuments. Bringing people together to create this mural will memorialize her life visually and serve as a meaningful addition to Richmond's murals."
In September 2018 a mural committee was formed including Governor's School representatives from faculty, administration, PTSA, alumni and current students. Additionally, an alumni representative from the original Maggie L. Walker High School was a part of this committee. Over 125 people took part in an online survey about what should be included in the mural. Current art students helped conduct research about her and came up with thumbnail sketches. While many knew that Maggie L. Walker was an entrepreneur and the first woman to charter a bank in the United States, many had been unaware of her early work as a teacher and her role in civil rights activism. Hall took the student research and ideas to the mural committee and then created a final design that was approved by the committee.
During Black History month, students assisted Hall in projecting the final design onto special fabric squares that created "color by number" outlines to be filled in at paint parties. In March, during Women's History Month, the paint parties began. Over 325 people took part in over 11 paint parties at the school including one paint party on March 9th for alumni from Maggie L. Walker High School. Participants from the class of 1965 through 1977 painted on the mural panels alongside current Governor's School students and alumni.
Lisa Williams, English teacher and member of the mural committee who is also writing a children's book about Maggie L. Walker for the National Park Service site discussed how an old faded exterior wall was transformed through the mural process. "Colleen Hall turned this eyesore into a major community project that involved a wide range of stakeholders, from students to teachers to alumni. She listened intently and she worked diligently, exemplifying a fine-tuned balance between method and structure and flexibility and creativity. The final product is indeed magnificent and pleasing to the eye, but more than the vibrant colors, powerful words, and symbolic images, the mural speaks to the heart because it embodies the true spirit of collaboration."
Max Smith, Assistant Director of the Governor's School and member of the mural committee shared, "My participation in the committee was driven by a need to venerate a forerunner of the civil rights movement in order to inspire our students today. The symbolism of the mural bridged the school pride of Maggie Walker High School and the Maggie L. Walker Governor's School through the mutual admiration of our namesake."
About Artist Colleen Phelon Hall: After 24 years of creating custom artwork and murals, Hall has expanded into Social Practice art where she seeks to gather untold stories and engage the community in creating public artwork with a meaningful message. For more information, visit colleenhall.com.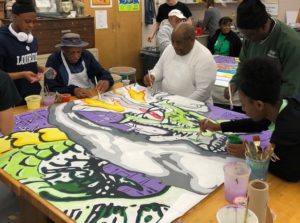 Paint Party on 3/9/19 for Maggie L. Walker High School Alumni – classes 1965 through 1977 were represented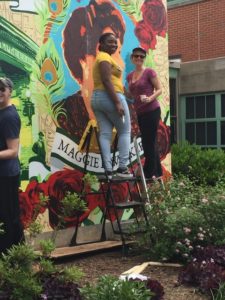 After installing the fabric panels, current student Alyasia Shaw helps me with some touch-ups
---