Maggie L Walker Governor's School Among the 300 State Finalists in the National Samsung Solve for Tomorrow STEM Competition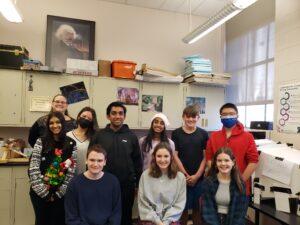 Pictured L-R: Heather Kemmerly (club sponsor), Sain Jain (club co-president), Devesh Kumar (club co-president), Brielle Bugauisan, Deepanshi Kumar, Samuel Choi, Molly Morrison, Margaret Josefiak, Mark Wood, Sutton Marks (original concept developer), not pictured – Nitya Goyal, Max Keating.
Maggie L Walker Governor's School has been named one of 300 State Finalists in the 13th annual Samsung Solve for Tomorrow competition, receiving a $2,500 prize package.
Solve for Tomorrow is a national competition that challenges U.S. public school students in grades 6-12 to explore the role science, technology, engineering, and math (STEM) can play in solving some of the biggest issues in their local communities. The competition engages students in active, hands-on learning that can be applied to real-world problems – making STEM more tangible and showcasing its value beyond the classroom. Students participating in this year's competition have boldly entered their game-changing ideas to tackle geopolitical matters (Ukraine), climate change, school safety, personal safety, mental health, school bus commuting, and more.
STEM skills are key to a 21st-century workforce and new approaches in education are vital. Between 2019 and 2029, the number of STEM jobs will grow by 8%, a higher rate than non-STEM jobs. National test scores among American schoolchildren in math and reading have fallen by the largest margin in 30+ years. (source)
Solve for Tomorrow was designed to boost interest, proficiency, and diversity in STEM.
Great job, Dragons! Congratulations.
---