Maggie Walker Governor's School claimed its 19th Regional and State Championship Title in 'We the People: The Citizen and The Constitution' Academic Competition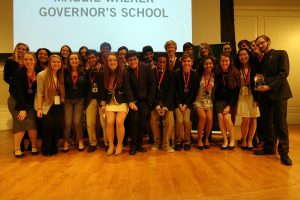 Maggie Walker's 'We the People' team wins its 19th state title in the We the People: The Citizen and the Constitution, a civics and constitutional knowledge hearing held at the Darden School of Business at UVA on Friday, January 27th.  Run by the Center for Civic Education and James Madison's Montpelier, this year's competition brought together teams from across the state to focus on their understanding of the Constitution and current and past events surrounding the United States Government. Students are divided into units and prepare a four-minute presentation on their focus area then participate in simulated Congressional hearings on a wide variety of topics from natural rights to immigration and Congressional representation.
This year Maggie Walker will attend its 19th national hearings on April 21–April 24, 2017, at the National Conference Center in the Washington, DC area, where students will compete with 55 other teams from all over the nation.  The students are aiming for a possible third national title, which the school won in 2003 and 2011, and to continue the school's unbroken streak of top ten finishes. The 'We the People' program at Maggie Walker continues to help make Virginia a dominant force in civic and constitutional education.
Team Sponsor and Teacher: Mr. Sam Ulmschneider
 Team Members:
Ryan Buscaglia                   Mara Guyer                          Kiersen Mather                    Olivia Ratliff
Quan Chau                           Omar Karim                         Sophia McCrimmon           Robin Schwartzkopf
Parker DiPaolo                     Jessica Kong                      Christian Moore                   Hugo Stack
Evan Fitchett                        Parth Kotak                         Jacqueline O'Neill                Harish Tekriwal
Avery Gagne                        Genevieve Markee               Clare Perry                            Adam Temple
Kiera Goddu                         Emily Martin                        Dharaa Rathi                        Naomi Vickers
http://www.civiced.org/programs/wtp
---