Meet the newest MLWGS team member – Alisa Shapiro, School Nurse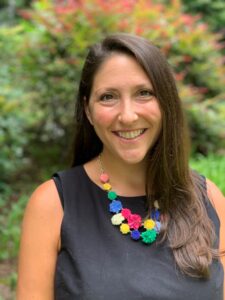 On March 8th Ms. Alisa Shapiro joins the Maggie Walker Governor's School staff as School Nurse. She will provide direct nursing services to the students and staff in the school clinic located near the bluestone lobby entrance.
"We are very excited to announce that we have brought Ms. Alisa Shapiro, Nurse Practitioner, to our MLWGS team, said Dr. Bob Lowerre, Director. We felt strongly about having a full-time health professional on campus as we begin to bring students back to school. Ms. Shapiro has a wealth of experience in nursing and specifically pediatrics. Please join me in welcoming her aboard!"
Ms. Shapiro has several years' experience as a Pediatric Nurse Practitioner with expertise in collaborative care and patient education. Alisa earned her undergraduate degrees from Carnegie Mellon University and VCU, and a graduate degree from VCU. She is also a licensed RN in Virginia.
"I believe in the positive impact of strong, healthy communities on our physical and mental well-being, so I'm excited to join the amazing community of staff and students at Maggie Walker Governor's School, said Ms. Shapiro. I am passionate about health and wellness and hope to be able to impart some of my knowledge about the healthcare system, disease prevention, mind/body connection, and holistic health to the faculty and students. In addition to being a nurse practitioner, I'm a proud mom of my two children, ages 9 and 6, and my chocolate labrador, Fiona. My physical and virtual doors are always open, and I look forward to meeting you all!"
---