MLWGS Drama presents Snow Angel, November 16-18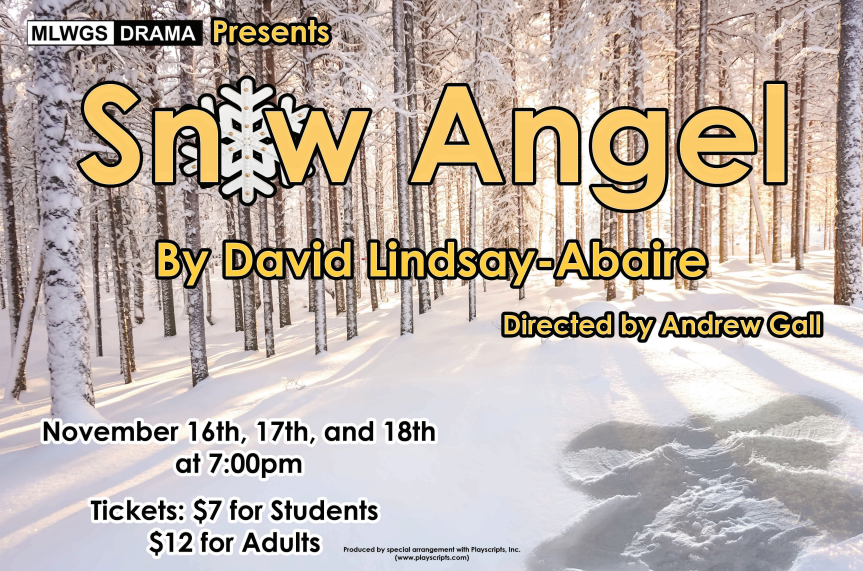 Bundle up for MLWGS Drama's Fall production of Snow Angel, a sweet and witty comedy by award-winning playwright David Lindsay-Abaire. Follow the story of 15 teenage friends in Deerpoint, Vermont, as their snow day takes a curious twist after the mysterious appearance of Eva, a young girl from Deerpoint… but not quite the same Deerpoint as everyone else. Follow our talented cast as they share the story through journal entries, angsty and sincere interactions, and monologues that will leave you questioning reality and the meaning of friendship the whole way through. Bring your friends and family to enjoy this eerie and heartwarming play directed by Andrew Gall, November 16-18 at 7pm. Tickets are $7 for students and $12 for adults and can be purchased online at https://tinyurl.com/ah9a9pm7 or with cash at the door.
Featuring
Annie Bosher
Helena Damer
Elise Eason
Wren Finck
Lucy Gates
Christopher Grady
Franklin Heyming
Shakylia Jones
Rowan Kanach
V Lowden
Josie Mendicino
Zinnia Nygren
Ansley Plaisted
Avery Redmond
Ces Wells
Max Whealton
Scenic design by Zachary Mazzo and Sophia Runberg
Lighting design by Sam Dong
Costumes by Avery Redmond and Rewa Totey
Props by V Lowden
Sound design by Yuna Chen
Hair & Makeup by Josie Mendicino and Shakylia Jones
Produced by special arrangement with Playscripts, Inc.
---