MLWGS Executive School Board Meeting on Thursday, September 15 @ 9:00 am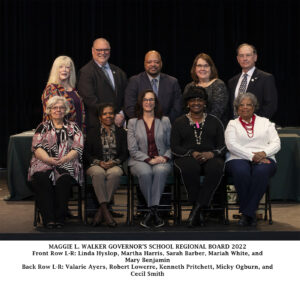 The Maggie L. Walker Governor's School Executive Board meeting will be held on Thursday, September 15, 2022, at 9:00 am. Location: MLWGS, Room 153.
At this meeting, the board will review the schools' current financial reports and personnel changes, and discuss the AY22 School Wellness report, the current School Advisory Committee membership, and AY24 division student's slot commitment for upcoming budget planning. They will also review the strategic plan status. Business to be conducted includes action to approve three international trip proposals for 2023.
During their first read items, the board will review policy and regulation updates, and consider one international trip proposal for 2023 to Spain.
The September meeting packet can be viewed here.
Persons unable to attend in-person but wanting to address the Regional School Board during the public comment period are invited to use this form to submit their comments by 10:00 am, Wednesday, September 14, 2022, or email their remarks to the Board Clerk.
---