MLWGS Executive School Board Meeting Thursday, June 16 @ 9:00 am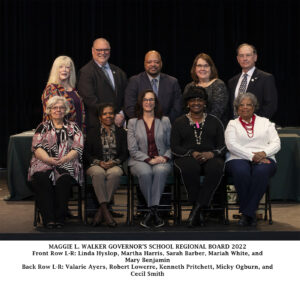 The Maggie L. Walker Governor's School Executive Board meeting will be held on Thursday, June 16, 2022, at 9:00 am. Location: MLWGS Adjunct Classroom #153
At this meeting, the board will recognize the 2022 Girls & Boys Tennis teams as the VHSL State Champions and Hall of Fame Track Coach Jim Holdren on his milestone 60 years of coaching. They will also thank Harold Houghton and Karl Zweerink for their combined 51 years of service to this school. Scheduled for approval are the May financial reports and June personnel items. Also scheduled for approval is the annual GASB end-of-year assignment of reserve funds from FY22.
During the Director's Report, the board will be presented reports about field trips conducted during the academic year just ending along with a student wellness report, both being required by policy. Additionally, Mr. Michael Larkin will present the year-end School Advisory Council Report and Ms. Ginger O'Neil will discuss the upcoming GS Foundation Enhancement Grant for MLWGS services.
As a permanent agenda item, the board will review the Strategic Plan update. Lastly, during the review section of first read items on the agenda, the board will examine several required annual items that include authorization of DOE signatures, certification of the school crisis manual, the 22-23 student handbook, 22-23 health and dental benefit rates for employees, and an international trip proposal to Germany in June 2023.
The June meeting packet can be viewed here.
Persons unable to attend in-person but wanting to address the Regional School Board during the public comment period are invited to use this form to submit their comments by 10:00 am, Wednesday, June 15, 2022, or email their remarks to the Board Clerk.
---