MLWGS Regional School Board meeting off campus on Thursday, October 21 @ 9:15 am and public comment information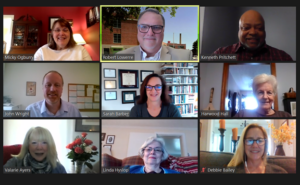 L-R Top Row: Ogburn, Lowerre, and Pritchett
L-R Middle Row: Wright, Barber, and Hall
L-R Bottom Row: Ayers, Hyslop, and Bailey
Location: Libbie Mill Library, 3rd Floor, 2100 Libbie Lake East Street, Henrico, VA 23230 https://goo.gl/maps/sd9yrzo9Cv9vgbmF8
Masks are required for in-person attendance. We are planning to record the Regional School Board meeting for those wishing to view and/or listen. In-person attendance is restricted to the limitations of the number of participants who can socially distance at 3 feet minimally while wearing a mask at all times. If an individual is unable to wear a mask and needs accommodation, the individual must notify Barbara Marshall, Regional School Board Clerk, by 10:00 a.m. of the day before the meeting and a separate opportunity will be available as an ADA accommodation.
The Maggie L. Walker Governor's School Regional Board meeting will be held on Thursday, October 21, 2021, at 9:15 am in the new meeting location listed above. The library opens to the public at 9:00 am.
At the October regular meeting, the board will consider finalizing proposed changes to Maggie Walker's admission practices. Other policies and regulations as recommended by the Virginia School Board Association will be considered for adoption, as well as a new proposed international trip to London over spring break 2022. An update on the Strategic Plan implementation will also be presented.
The October meeting packet can be viewed here. The public can view the meeting here.
Persons unable to attend in-person but wanting to address the Regional School Board during the public comment period are invited to use this form to submit their comments by 10:00 am, Wednesday, October 20, 2021, or email their remarks to the Board Clerk.
---