MLWGS welcomes its newest faculty members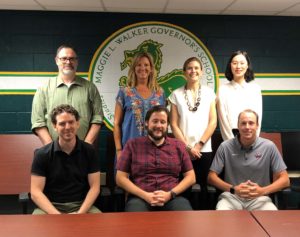 L to R back row: Peter Cashwell, Jan Hatcher-Conquest, Leigh Glatt, and Yifei Sun. Front row: Matthew Kirchner, Zachary Zelenak, and Patrick Kennedy,
Please join us in welcoming our newest faculty members for the 2019-2020 academic year:
Mr. Peter Cashwell – English Department. Peter Cashwell comes to MLWGS after a short tenure at Richmond's Seven Hills School and a much longer one at Woodberry Forest School. A native of Chapel Hill, he is a graduate of the University of North Carolina. He has published two books, with a third on the way, and has written for periodicals as varied as the New York Times, The Comics Journal, and Audubon.org. In his spare time he birds, plays guitar and keyboards, and plays old and complicated board games. He and his wife, librarian and writer Kelly Dalton, have two grown sons and live on the South Side with their dog, Ripley.
Ms. Jan Hatcher-Conquest – P/T teaching World Religions. Ms. Hatcher-Conquest comes to MW as VCU adjunct faculty for religious studies where she has taught since 2007. She holds an undergraduate degree from Virginia Tech, a Masters in Counseling from VCU, and is in post-graduate studies for religious studies and Theology.
Mrs. Leigh Glatt – English Department. Mrs. Glatt will be teaching full-time this year for MW after a successful stint as a board substitute during the final semester of 2018-19 academic year. Leigh holds an undergraduate degree from the University of Virginia with a teaching certification in both English and Theatre Arts from the University of Richmond. In a previous career, Leigh was a New York City actress for many years and was a member of the Screen Actors Guild for over 10 years. She will be jumping into MW drama this fall as the director.
Mr. Patrick Kennedy – Mathematics Department. Mr. Kennedy is excited to meet the Dragons of MLWGS. Since 2012 he has taught students of all backgrounds and abilities at Clover Hill High School in Chesterfield. Patrick holds both an undergraduate degree and a Master of Teaching from the University of Virginia. In his downtime, Patrick is an avid disc golf player.
Mr. Matthew Kirchner – International Languages Department – German. Mr. Kirchner has been teaching for over a decade in two different countries; the United States and Germany, after earning a Fulbright Teaching Assistantship and holds an advanced degree in linguistics. During his experience in the United States, Matthew worked at the Virginia Governor's School Language Summer Academy of German for two summers and taught German in Charlottesville and Albermarle County. Matthew earned his undergraduate degree from the University of Mary Washington and a Masters of Art from Albert-Ludwigs-Universitaet Freiburg.
Ms. Yifei Sun – P/T International Languages – Chinese. Ms. Sun also comes to MW as VCU adjunct faculty where she serves in the World Studies Department. Yifei holds an undergraduate degree from VCU and a Masters from Old Dominion University.
Mr. Zachary Zelenak – Science Department. Mr. Zelenak comes to MW from Glen Allen High School where he worked since 2013. Zachary is experienced in all levels of physics, including college prep and honors classes, and AP Physics 1, 2, and 'C.' Zachary holds an undergraduate and Masters degree from the University of Pittsburgh.
---