MW advances to the State contest for Virtual Virginia History Day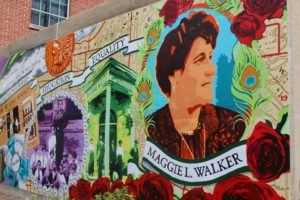 Congratulations to Maggie Walker students, Nikki Kumar ('22-Henrico), Jordyn Krajewski ('23-Chesterfield), Joanne Lin ('23-Chesterfield), Riishi Naavaal ('24-Henrico), and Aashka Shah ('24-Henrico) who competed in the District 8 Virtual Competition of Virginia History Day! Sponsored by Global Studies teacher, Dr. Christine A. Anderson, all participants explored topics within this year's theme of "Communication in History: The Key to Understanding."
Virginia History Day is a history competition for students grades four through twelve. To qualify for the state competition, students must place first or second in their category and age division at one of eight district-level competitions held throughout Virginia. The top two entries in each category and age division at the state level will compete at the National History Day finals.
Projects advancing to the Virginia History Day Virtual State Contest in April 2021 are Nikki Kumar's Harriet Tubman: Communication through the Underground Railroad; Jordyn Krajewski's Headlines and Bloodlines: The Role of Media in Inspiring and Infuriating America into Action; Joanne Lin's The Zimmerman Telegram: Cross-Border Communications that Changed the Tide of History; Riishi Naavaal's and Aashka Shah's Communication Saves the Day: The Power of Words During the Cuban Missile Crisis.
Virginia History Day is sponsored by the Virginia Museum of History and Culture.
---