MW Cross-Country excellence continues at the State Championship
Saturday, Nov. 11th, for the 20th consecutive year, the Lady Green Dragons of Maggie Walker had a team on the starting line of a VHSL State Championship Race. Over those 20 years, the classifications have changed, the athletes grow and move on as new generations rise to take their place and carry the legacy forward. While each year's journey to the state meet has its own story, most of these stories (at least 14 of the 20) have ended on the Team Podium. This year's end was no different:
The Lady Green Dragons are your VHSL Class 3 Cross Country State Runners-Up.
The team was led by two Senior All-State performances:
The third consecutive for Gray Pershing (9th) and first in Cross Country for Ally Phillips (14th)
Congratulations to our coaches and athletes for an outstanding season.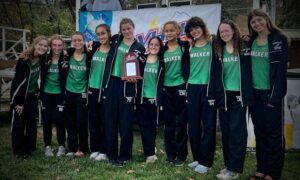 ---