MW Debate wins VA Catholic Forensic League Tournament Sweepstakes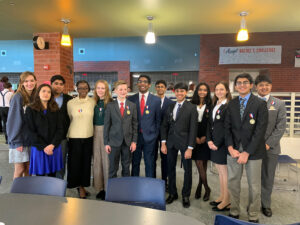 Photo from 2019
The Maggie L. Walker Debate Team won the Debate Sweepstakes for the 2nd Virginia Catholic Forensic League Tournament. In the Lincoln-Douglas debate, Amar Srinivasan ('21-Chesterfield) won first place, Charlotte Ratliff ('23-Richmond) 2nd place, Senthil Meyyappan ('21-Henrico) 3rd place, and Devesh Kumar ('24-Henrico) 4th Place. In Public Forum Debate Layne Hopkins ('21-Chesterfield) and Anna Murray ('21-Richmond) finished in 1st place. In Student Congress Amanda Perez ('21-Henrico) was the champion, Adam Willis ('22-Chesterfield) finished 2nd, and Akshay Pappu ('23-Henrico) finished in 4th place.
All of these individuals have now qualified for the Catholic Forensic League State Championship.
Great job, Dragons and their sponsor Mr. Dan Brown!
---