MW Girls Basketball advances in State Tournament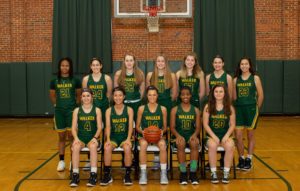 Congratulations Girls Basketball
The Dragons played a hotly contested game last Friday with Strasburg High School, the Region 2B Champion, winning the game 39-38 in the first round of the VHSL State tournament. The game was played at Stonewall Jackson High School and the gym was packed with a Strasburg crowd. AD Paige Hawkins estimated approximately 2,000 people were watching.
Next up, the team will play Greensville County High School on March 5th at Southampton High School, 6:00 pm. Your historical run continues! Good luck lady dragons.
The team is coached by Speedy Baughman, Ray Copple, and Dib Ogelsby.
---