MW Orchestra & VCU Medical Orchestra perform joint spring concert on June 5th at Maggie Walker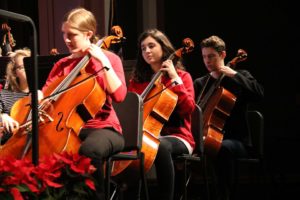 In a first for our school, the Maggie Walker Orchestras will be putting on a combined performance with the VCU Medical Orchestra on June 5th, 2019 at 7:30 pm. They will be performing as a full orchestra and playing some rather exciting popular pieces, including music from Pirates of the Caribbean, Lord of the Rings, James Bond, Game of Thrones, and much much more! This will be a fun, free, family-friendly event!
The idea behind this collaboration is to introduce Maggie Walker students to medical professionals who have been able to maintain their musical abilities beyond high school. You do not have to major in music to be a musician, nor do you have to major in Biology to become a doctor.
The MW Orchestra is led by Mrs. Christina Sienkiewicz.
---