MW senior has work submitted to Bridges International Juried Art Exhibition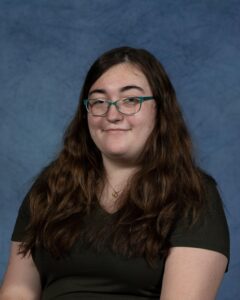 Maggie Walker Governor's School senior Libby Sydnor ('23, Hanover) will be on her way to Aalto University, Helsinki, Finland this August to present her submission to the Bridges Conference juried art exhibition where she will present her work.
Libby's piece was selected for its artistic merit as well as mathematical content, craftsmanship, originality, and innovation. "The Bridges Organization oversees the annual Bridges Conference on mathematical connections in art, music, architecture, and culture. Since 1998, Bridges has traveled to North America, Europe, and Asia, and has attracted participants from over thirty countries. The conference features invited speakers, regular and short paper presentations, hands-on workshops, a juried art exhibition, and arts performance events."
Libby's photographic work was selected from submissions by an international field of mathematicians, scientists, and professional artists.
"Libby combined her interests in darkroom photography and origami to make an outstanding three-dimensional work entitled "Siege of Cranes," said teacher, Georgianne Stinnett.
This is a fantastic opportunity for Libby, who did impressive work to earn entry. Good luck and enjoy the trip!
---