PSAT reminder for testing students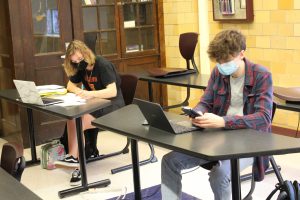 PSAT testing is this Wednesday.
Maggie Walker will operate under a special schedule on October 13th due to PSAT testing during the morning for sophomores and juniors. All sophomores and juniors should report to school on time at 8:40. All freshmen and seniors do not need to report to school until the start of period 5 at 1:05. Lunch will be served starting at 12:20 pm. Periods 5 and 7 classes will meet during the afternoon on a shortened schedule.
Morning for Sophomores and Juniors
All 10th and 11th graders will take the PSAT in the morning. All juniors will test in the gym. Sophomores will be grouped by their English classes. Rosters will be posted around the school with testing locations. Students that have College Board testing accommodations will receive an email with specific instructions.
The PSAT is a great practice opportunity for the SAT. For 11th graders, the PSAT results are used for qualification purposes for National Merit Scholarship Programs. The counseling department distributed PSAT Student Guides to all 10th and 11th graders during lunchtime assemblies during the week of Monday, September 27th. The guides contain information about the tests as well as a full-length practice test. Students are encouraged to take the practice test before testing day. More information about the PSAT can be found at www.collegeboard.org/psat. Score reports will be available online in mid-December. Juniors will be encouraged to register for an SAT or ACT date in the Spring by visiting the testing agency websites.
Students are reminded to bring #2 pencils and calculators for testing. The College Board does not allow makeup testing for the PSATs so it is important that students arrive at school on time.
Morning for Freshmen and Seniors
Both Seniors and Freshmen will not be required to be at the school until the beginning of 5th period at 1:05. Having said that, while we encourage students who aren't testing to arrive at 1:05 pm, we understand that transportation may certainly be an issue and students are welcome to ride the bus in at the normal time in the morning. Upon arrival at school, they will report to the cafeteria/commons and have a supervised study hall until lunch.
---